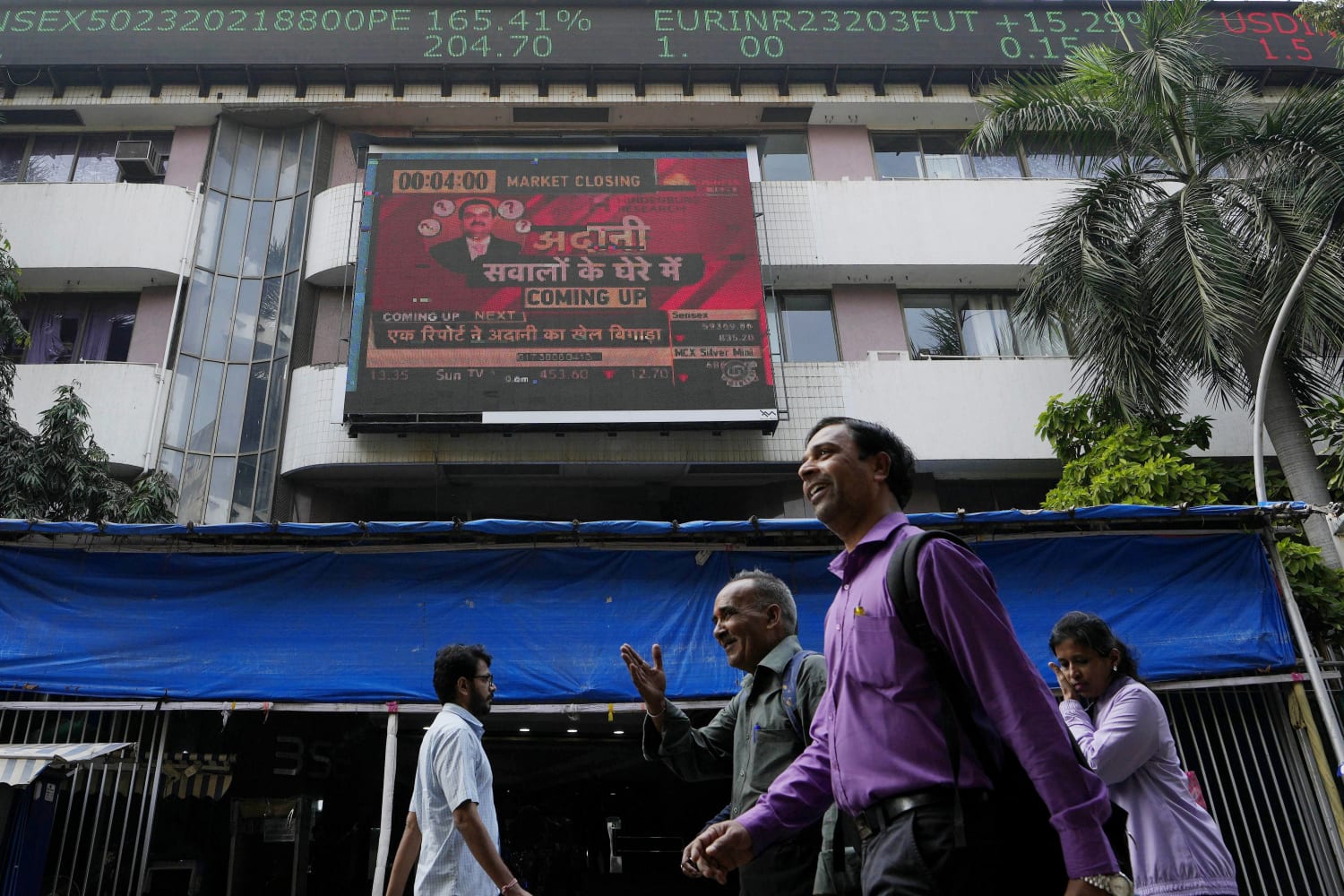 Gautam Adani and his family have built a vast fortune mining coal to fuel energy-hungry India's fast-growing economy. Businesses in the conglomerate span industries including infrastructure, ports, data transmission, media, renewable energy, defense manufacturing and agriculture. Adani's own net worth has skyrocketed nearly 2,000% in recent years.
With a net worth of nearly $125 billion late last year, Adani surpassed Amazon boss Jeff Bezos to briefly become the world's second-richest man, according to Bloomberg's Billionaire Index. After last week's losses, Bloomberg's index ranked him seventh richest in the world with a fortune worth $92.7 billion.
The report from Hindenburg said it judged the seven key Adani listed companies to have an "85% downside, purely on a fundamental basis owing to sky-high valuations."
Hindenburg said its report, "Adani Group: How the World's 3rd Richest Man is Pulling the Largest Con in Corporate History," followed a two-year investigation. It listed 88 questions it invited the company to answer. Most of the allegations involved concerns about the group's debt levels, activities of its top executives, use of offshore shell companies and past investigations into fraud.
Investors began dumping Adani-linked shares on Wednesday, wiping out some $48 billion in market value.
Over the weekend, Adani said it would carry on with its share sale in Adani Enterprises as scheduled, despite the value of its shares falling well below the price range of the offering. On Monday, Adani Enterprises was trading at 2,850 rupees ($35), up 3.2% but well below the band of 3,112 to 3,276 rupees initially set for the offering which closes Tuesday.
In its response to Hindenburg, the Adani Group said none of the 88 questions in its report was "based on independent or journalistic fact finding." It rejected numerous questions as baseless, misleading or biased. In response to other questions, the group attached documents and tables of data and said it had followed local laws.
Adani also dismissed concerns over its debt-fueled growth, saying the "leverage ratios of Adani portfolio companies continue to be healthy and are in line with the industry benchmarks of the respective sectors."
In an interview with CNBC TV-18 on Monday, Adani's chief financial officer Jugeshinder Singh said the group's gross debt was $30 billion, out of which $9 billion was from Indian banks.
Hindenburg said only 30 pages in Adani's response focused on issues it raised and the rest consisted of court records, general information, company financials and "irrelevant corporate initiatives." Adani failed to specifically answer 62 of the 88 questions it had posed, it said.
Late Thursday, Jatin Jalundhwala, head of the Adani group's legal department, said the group was considering legal action against Hindenburg. Hindenburg said it stood by its report and would welcome legal action by the Adani group.