Nationwide infections could remain high for another two or three months, Zeng Guang, former chief epidemiologist at the Chinese Center for Disease Control and Prevention, was quoted as saying last week by local news outlet Caixin. With major cities like Beijing and Chongqing saying their outbreaks have peaked, he said, "it's time to focus most on rural areas."
Zeng noted that there are fewer medical resources available for those he said had been "left behind" in rural areas, like older people and people with disabilities. According to official statistics, there were about five medical personnel and fewer than five hospital beds per 1,000 people in China's rural areas in 2020, compared with more than 11 medical personnel and almost nine hospital beds in urban areas.
Jiao Yahui, an official at the National Health Commission, said the government's Covid strategy for rural areas had two main focuses.
"First is to ensure that medicines can reach them, and that the supply covers the time period of Spring Festival or even longer," she told Chinese state media early this month. "The other is that patients who are seriously ill are able to be treated in regional hospitals or at least be transferred to county hospitals."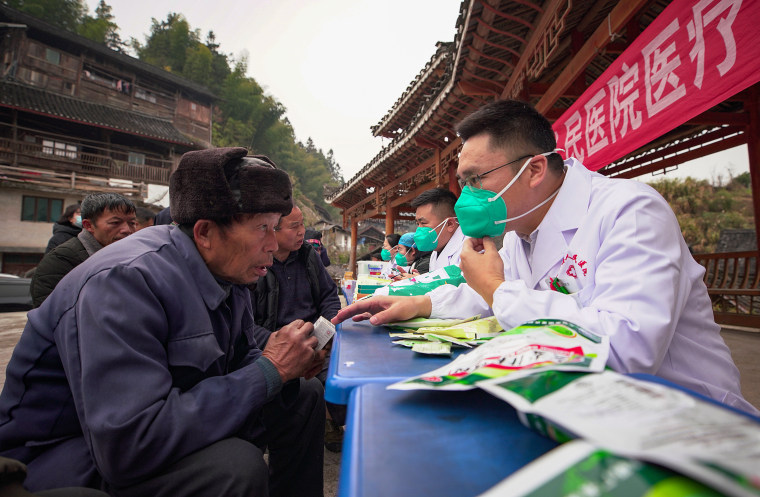 Some ordinary Chinese are also mobilizing to help. 
Yuki Yang, 26, said she had been working with about 100 other volunteers since mid-December to send medication and other Covid supplies to older people in villages around the country.
"Most of the time we get in touch with local clinics and distribute the pills in the presence of local doctors," said Yang, who lives in Shanghai. "But I know more people need help."
The Taoyuan County visitor, who asked to remain anonymous for fear of official reprisals, said there was only one health clinic in her village and it was not equipped to treat Covid patients. The lack of facilities means those with Covid are more likely to travel elsewhere for treatment or simply recover at home to avoid further exposure in hospitals.
"There is a relatively comprehensive hospital in town, but it is still incomparable with the medical resources of the city," she said.
At a hospital in Qingjian County in the northern province of Shaanxi, about 30 to 40 people — mostly middle-aged and older and all wearing masks — stood in line for outpatient registration one morning last week. Several older people waited for family members on a sofa near the hall entrance, coughing occasionally.
On the streets, people dressed in white, the traditional color of mourning in China, could be seen the same day walking in funeral processions for two different people.
A local resident with the last name Li said he had attended five funerals since last December, all for people who died after contracting Covid. He said he had heard that at least 300 older people died this winter in the county, not including its administered villages or towns.