Coronation Street star Michael Le Vell has said the legal fight with Mirror Group Newspapers over phone hacking has taken "years off his life" and transported him to "really dark places".
The veteran actor, who has played mechanic Kevin Webster in the Manchester soap for almost 40 years, said confusion over where certain stories had come from caused him to "alienate decent people in my life" and become "extremely paranoid".
Colleagues suspected him of being a "mole", he said, as stories about them appeared in the newspapers.
Speaking on the final day of evidence at the Rolls Building in central London, Le Vell, whose real name is Michael Turner, said of the saga: "It's taken about five years off my life.
"It's been emotional and it has made me go to somewhere where I thought I would never go again – and that's really dark places."
Le Vell went through several stories about him which were splashed in the Mirror, including an article about his arrest in 2011 on suspicion of sexual offences – of which he was later cleared.
Regarding that arrest, he said he remembered seeing an article and "wondering how the press got hold of this information".
Asked by his barrister David Sherborne how he felt about the publication, he said he was "disgusted".
He continued: "It just makes me sound like I was a broken man, and I was, but I didn't want the world knowing."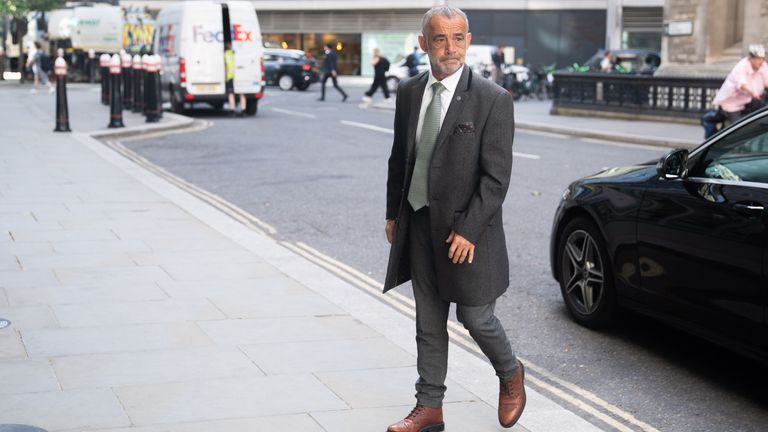 In written evidence before the court, Le Vell said he had become "extremely paranoid" over stories about him in the press and that he blamed people around him.
That caused a huge amount of damage to trust and to relationships, he said, commenting: "I feel like I wasted a lot of years alienating decent people in my life."
He went on to explain why he had joined the legal fight with the Duke of Sussex and more than a hundred others, saying: "Sometimes you just have to speak up for yourself. Now is the time to do that."
The 58-year-old is suing Mirror Group Newspapers (MGN), the publisher of the Daily and Sunday Mirror and the Sunday People, for damages over alleged unlawful information gathering between 1991 and 2011.
He claims journalists there were linked to phone hacking; so-called "blagging" or gaining information by deception; and the use of private investigators for unlawful activities.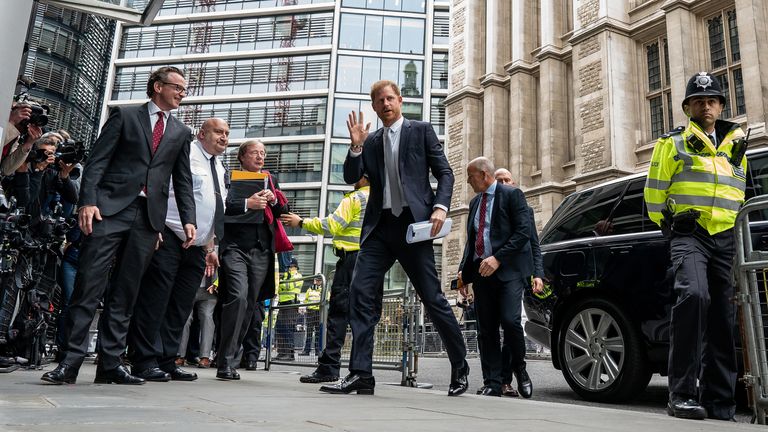 MGN denies Le Vell's claim, arguing there is "no evidence" of voicemail interception or unlawful information gathering relating to him.
Richard Munden, lawyer for MGN, previously alleged Le Vell's case is "particularly weak", saying that some articles in the claim were before phone hacking started or when it had "significantly dropped off".
Le Vell was followed on the witness stand by Alan Halsall who is supporting his claim. "To think that people did not trust him and wrongly suspected him of leaking information to the defendant is heartbreaking to me and to him," Halsall said in his witness statement.
Halsall also talked about his own experiences of phone hacking; he described voicemails "going missing" for a period or described dialling in to listen to a voicemail and hearing an "engaged tone".
At the end of the submissions in court on Tuesday, the judge, Mr Justice Fancourt, read a list of journalists' names, including Matthew Wright, Neil Wallis, Katie Hind, and former Daily Mirror editor Piers Morgan, and questioned why none of them had been called as witnesses in the case.
Mr Morgan, who has always denied any knowledge of phone hacking or illegal activity at the Daily Mirror, was yesterday accused of knowing how to hack phones, and explaining how to do it to others, by a former Mirror journalist.
Mr Justice Fancourt said he had a "question in my mind" about whether several people, including three or four associates of the Duke of Sussex, "could and should have given some evidence".
The judge then specifically referred again to Mr Morgan and former Sunday People editor Neil Wallis, whom he said had "relatively recently had a lot to say about this matter outside of court".
Closing submissions will be entered this week before final arguments pick up again in court on Tuesday.
The case will formally conclude at the end of next week, with a ruling expected at a later date.