MAINZ, Germany — A huge aquarium burst in Berlin on Friday morning, sending a wave of water, glass and tropical fish pouring into the center of the German capital. 
One million liters (264,000 gallons) of water crashed out of the aquarium, police said, damaging parts of a building that also housed a hotel, cafes and a chocolate store.
Two people were injured by the exploding glass and debris, but none were found trapped beneath the rubble, Berlin's fire department said in a statement on Twitter. The fish did not survive, authorities said.
The AquaDom, which stood inside the Radisson hotel just minutes from Berlin's famous Museum Island, was described as the largest cylindrical aquarium in the world. It was home to more than 1,500 tropical fish, according to the operators of Sea Life Berlin.
An elevator ride through the 82-foot-tall tropical tank was a popular attraction in the German capital, and took 10 minutes to complete.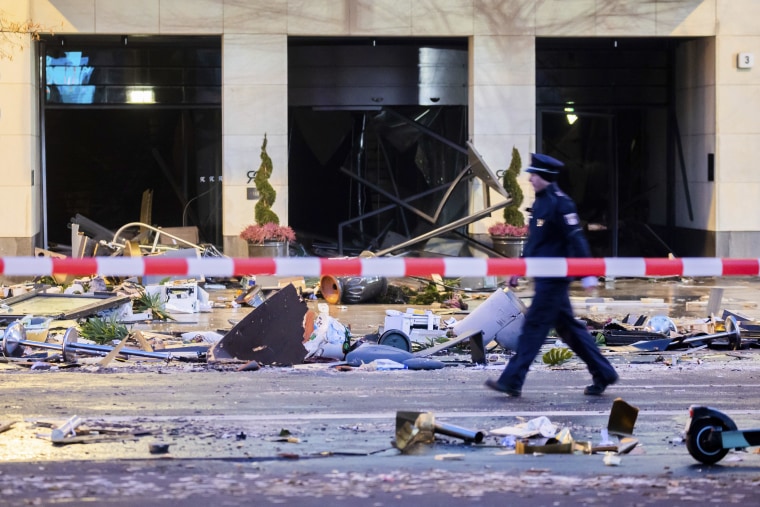 "There are shards (of glass) everywhere. The furniture, everything has been flooded with water," Sandra Weeser, a German lawmaker who had been staying at the hotel, told The Associated Press. "It looks a bit like a war zone."
"I never thought something like this could happen," said Iva Yudinski, an Israeli tourist.
"Just yesterday, we watched it and we were so amazed from its beauty," she added, "and suddenly it's all gone. Everything is a mess, totally mess."
Emergency service workers asked around 350 hotel guests to pack their belongings and leave amid concerns of structural damage. 
Berlin's police department announced on Twitter that the city's transport services and fire department were providing heated buses for hotel guests to wait in as more than 100 emergency workers arrived on the scene. It later added that "there is no evidence of a criminal offense in connection with the incomprehensible and momentous event at the #AquaDom in Berlin #Mitte (center)." 
The cause of the watery explosion remains unknown, with some speculation that freezing overnight temperatures in Berlin — hitting 14 degrees Fahrenheit — might have caused cracks in the acrylic tank, which burst under the weight of the water.
Berlin Mayor Franziska Giffey said the incident had unleashed a "veritable tsunami" of water but the timing had prevented far more injuries, according to the AP. "Unfortunately, none of the 1,500 fish could be saved," she said.
In a tweet, she described the lack of serious human injuries as a "blessing in disguise," drawing ire from animal rights activists on social media mourning the loss of up to 80 species of tropical fish.
Sea Life Berlin announced in a statement that its own aquarium, which is housed in the same hotel complex, would remain closed until further notice. 
Radisson hotel also told loyalty club members in an email that the hotel would remain closed until further notice. 
Andy Eckardt reported from Mainz, and Leila Sackur reported from London.
Associated Press, Reuters and Andy Eckardt contributed.