Kate Garraway and her husband, Derek Draper, were at Windsor Castle as the presenter was awarded an MBE by the Prince of Wales.
Draper watched on in his wheelchair nearby as Garraway received the award from William on Wednesday.
He was pictured at the ceremony in a blue suit and striped tie.
Garraway wore a cream dress with a bejewelled collar and a matching headpiece for the investiture ceremony.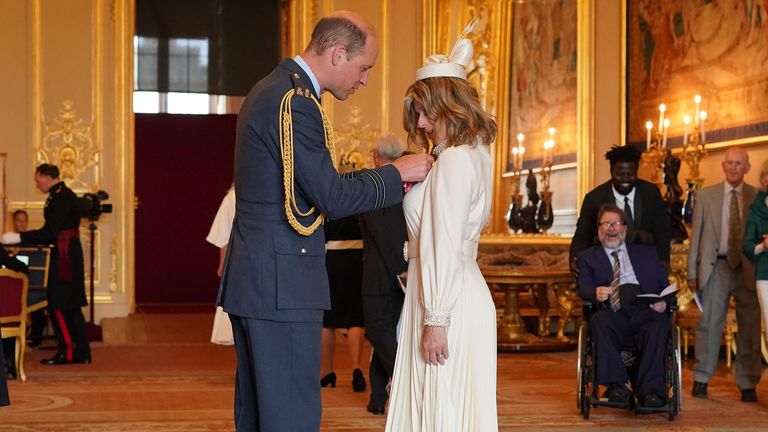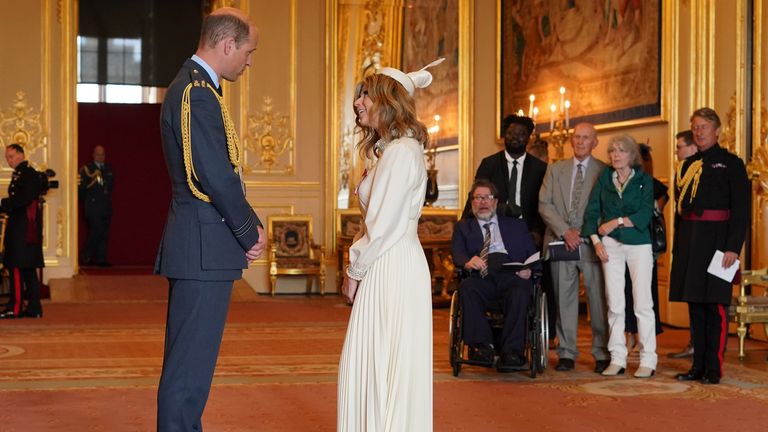 'I haven't got it for looking after Derek'
Speaking on the news of the accolade last year, the Good Morning Britain presenter said she felt a bit "awkward" but was "honoured" to receive the award.
She added: "I actually feel very awkward about it all really, I don't know why, because I'm thrilled to bits and incredibly honoured.
"But you just sort of think 'What? Me?', and then you think it's not real."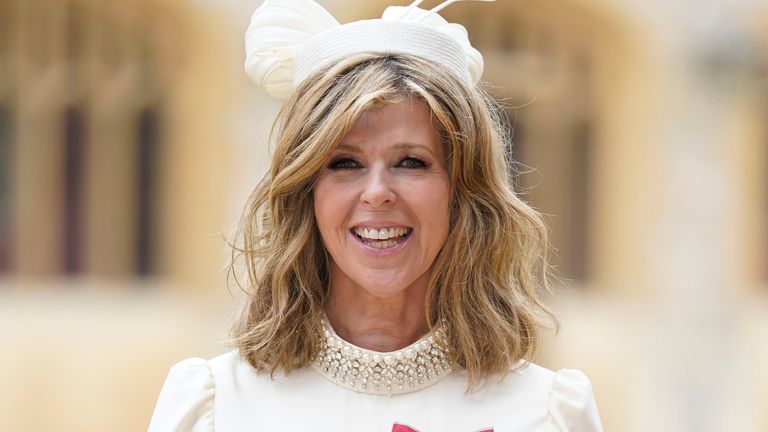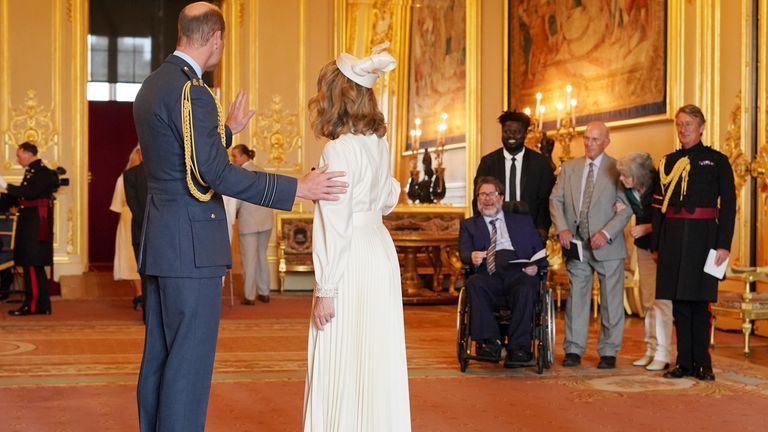 At the time, Garraway also said she was facing some negative comments about the awards and said it was for broadcasting and not because she had been taking care of her husband.
She said: "I think it has [evoked] strange feelings. And there have been a few comments since it was announced of people saying 'Why has she got this? I look after my loved one'.
"I haven't got it for looking after Derek. It is for broadcasting and I think also charity work.
"But you know there's lots of people that you feel deserve it more. So it's a strange feeling."
In 2022, Garraway was recognised in the New Year Honours for her services to broadcasting, journalism and charity.
Read more from Sky News:
Kate Garraway describes mental toll of caring for husband Derek Draper
Garraway says she is finding a 'new way to be in love' with husband Derek Draper
In March 2020, during the pandemic, Draper fell seriously ill with COVID, which left him with long-lasting damage to his organs and needing daily care.
The TV presenter has since made two documentaries detailing her family's life as Draper battles the long-term effects of coronavirus, with both programmes winning National Television Awards in the authored documentary category.
There are plans for her to front a third documentary exposing the "broken" care system.