LONDON — As Covid cut its devastating swath across the world, millions of Britons stood at their front doors every Thursday at 8 p.m., clapping and banging pots in a show of thanks to the country's health workers. Less than three years later on Wednesday, tens of thousands of nurses in England are estimated to have walked off work as part of an unprecedented strike shaking the country's much-loved but troubled National Health Service.
Nurses are striking to press for a pay increase of 5% above inflation — currently at 13.4% — but the government says it can't afford it. They are also striking to highlight the long-term deterioration of the service amid a chronic shortage of health care staff and ballooning living costs.  
Nurses have told NBC News that the health service, which is paid for through taxes and provides free treatment at the point of use, is failing to recruit enough staff, struggling to cope with demand and having to cancel serious operations or send patients to hospitals as far as 150 miles away.
Matt Smith, 43, is a pediatric intensive care nurse at a London hospital whose department takes patients from emergency rooms across London. Despite the vital work he does, he says, he cannot afford to live in the capital — one of the world's most expensive cities.
While his salary increased by under 2% this year — far below inflation — he and other nurses are facing a litany of rising costs. 
"It takes an hour and a half sometimes to get into work and my pay award this year was 1.9%, while the train company is putting the prices up by 5% or 6% next year. Inflation is 11%," he said. "Food prices are ridiculously high, energy prices are high."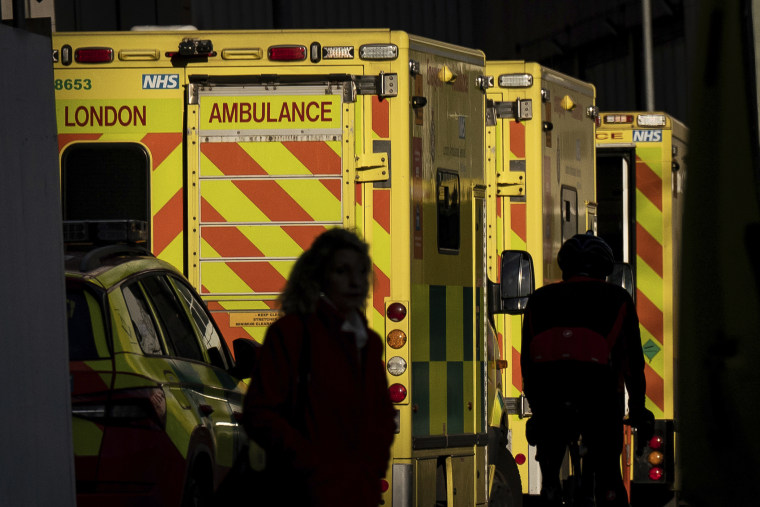 On top of this, a nursing shortage is making work increasingly stressful for medical staff as well as patients, added Smith, who is among the thousands to strike. Even when there are beds available in his hospital, he said, sick children are often redirected from his hospital to other medical centers located far away.
"We're having to decide whether we can accept this patient, do we have the nurses, or do we have to send them somewhere else and that could be 100, 150 miles away to another intensive care unit," he said.
According to the health think tank Nuffield Trust, there are an estimated 17,000 nursing posts unfilled on any given day in the health service. Last year, nurses' salaries could have fallen to around 10% below 2011 levels, it said.
"When I first started, there was always some pressure, especially over winter flu and things like that, but we never had the shortage of staff that we have currently," said Smith, who like other nurses NBC News spoke to asked that their hospitals not be named in order to avoid disciplinary action. "I can never remember a time when we had so many patients that we couldn't admit, that are being transferred elsewhere."
He added: "People just can't cope with it any more, which is why so many people are leaving."
According to Nuffield, between 2021 and 2022, 1 in 9 nurses left active service. 
Nurses are not alone: Britain is facing a slew of public sector strikes, with teachers, train drivers, postal workers and even driving test examiners all voting for industrial action, harking back to the strike-filled 1970s and 1980s.
But while there were nursing strikes in the 1970s, the Royal College of Nursing, the union that represents most nurses in England, held the first strike action in its 116-year history Dec. 15 and 20. More strikes have been scheduled for Feb. 6 and 7. 
Emergency treatment will go ahead during strike days but many planned operations will be canceled.
Meanwhile, the health service, normally a huge source of pride for Britons, has spiraled into crisis due to long- and short-term factors including the fallout of the pandemic. Controlled by the British government, the service was set up after World War II as a way to provide "cradle-to-grave" care for the whole country. 
Today, its enormous 153 billion pound ($187.5 billion) budget is paid through general taxation, which the Conservative government is reluctant to raise. As of September, there were a record 132,000 unfilled health service jobs — almost 10% of the total workforce of more than 1.3 million — according to figures released by NHS England.
Waiting times for emergency care and planned surgery have been steadily increasing, its data shows, and in December more than 10 separate hospital and ambulance trusts declared critical incidents, meaning they can't provide "normal operation functions" in a safe environment.
As many as 1 in 3 people who called the 999 emergency number waited for more than three and a half hours, NHS England said in its monthly report on ambulance performance.
A government public information campaign has been urging people not to call 999 and to instead use the 111 service, which deals with less serious cases.
A record 54,000 people waited more than 12 hours in emergency departments in December, according to NHS England. The same month, ambulances took on average 10 minutes and 57 seconds to reach the most urgent incidents, the service's worst performance on record, compared to its target of seven minutes, its statistics showed.
The Royal College of Nursing's general secretary, Pat Cullen, told BBC Radio on Wednesday morning: "They need to address pay, our nurses are seriously struggling with the cost of living, to keep their heads above water, to pay their bills and look after their families."
Meanwhile, Health Secretary Steve Barclay said he had held "constructive" talks with the Royal College of Nursing and other unions.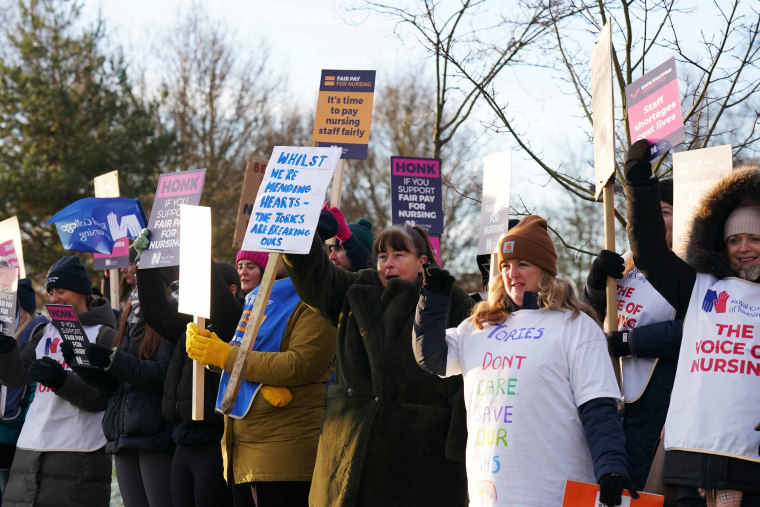 But he emphasized the strikes' impact on patients: "Patients will understandably be worried by the prospect of further strike action by nurses — the previous two days of nurse strikes saw around 30,000 elective procedures and outpatient appointments canceled." 
NHS England declined to comment on the conditions in hospitals that the nurses described. The Department of Health and Social Care declined to respond to the substantive points raised by NBC News about patient safety and staffing levels.
Kristy Cody, 49, a nurse of 10 years' standing, said she was striking to warn of the dangers of low staff levels in her pediatric oncology department in a major London hospital.  
She described one shift in which three nurses and two student nurses looked after 15 patients. She was the only nurse qualified to administer chemotherapy or blood products to some very sick children, and had to help another ward to do the same.
After the shift — she said there were several others like it — the nurses cried together.
"We gave every single patient everything on their list that day — they all got their medications, they all got their [observations], they all got a clean bed," she said.
"But that's all they got: no one got a conversation, no one got a cuddle. They didn't get what we went into nursing for, that care, warmth and empathy. We just don't have time for that any more."