Tributes are being paid to Sir Michael Gambon, following his death at the age of 82.
The actor died following a bout of pneumonia, his family said on Thursday, surrounded by his family.
Among the first to leave a tribute was the Harry Potter account on X, formerly known as Twitter – a franchise he is synonymous with having played the Hogwarts headmaster Albus Dumbledore in six of the eight films.
It wrote: "We are incredibly saddened to hear of the passing of Sir Michael Gambon.
"He brought immeasurable joy to Harry Potter fans from all over the world with his humour, kindness and grace. We will forever hold his memory in our hearts."
In what has become a tradition in recent years following the deaths of its actors, fans of the story are being encouraged to raise their wands in honour of Sir Michael.
James Phelps, who played Fred Weasley in the films, left his own memories of Sir Michael, writing he was always "very funny" and "very welcoming", describing a moment while working on the sixth film where he offered him some notes on another show he was doing.
Fiona Shaw, who played Petunia Dursley, said she would remember Sir Michael for being a "brilliant, magnificent trickster".
She told BBC Radio 4: "He did once say to me in a car 'I know I go on a lot about this and that, but actually in the end, there is only acting'. I think he was always pretending that he didn't take it seriously, but he took it profoundly seriously, I think."
Elsewhere, broadcaster Jeremy Clarkson left his tribute, reminiscing about the time a corner on the old Top Gear test track was named after Sir Michael.
He wrote: "I'm so sad to hear that Michael Gambon has died. He was hugely amusing, and such a tremendous guest, we even named a corner after him."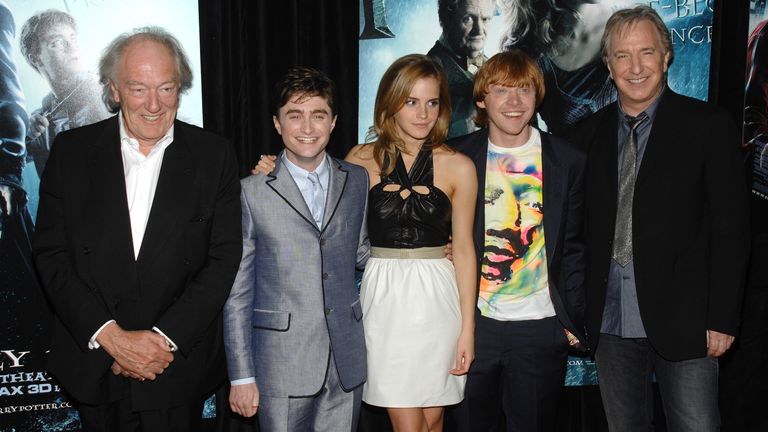 The actor was taking part in the show's Star In A Reasonably Priced Car segment when he almost flipped the vehicle on the last corner – earning it the name.
Dame Eileen Atkins, who starred alongside Sir Michael in the revival of Samuel Beckett's All That Fall, said there was something "very sweet" about the late actor.
The 89-year-old told BBC Radio 4: "He was a lot of fun. He was a great actor, but he always pretended he didn't take it very seriously. Of course, he does really take it seriously.
"But presence on stage was amazing. He just had to walk on stage and he commanded the whole audience immediately. He was very lovely to play with, when he behaved. He behaved with me. Sometimes he really played tricks on stage.
"There was something very sweet about him, this huge man who could look very frightening but there was something incredibly sweet inside Michael."
Actress Dame Joan Collins, who worked with the late Sir Michael in BBC sitcom Mama's Back in 1993 where they played as a married couple, called Sir Michael a "great" and "wonderful" actor.
In a post on Facebook, she wrote: "So sorry to hear of the death of the wonderful actor Michael Gambon.
"We played husband and wife in Ruby Wax's pilot called 'Mama's Back'.
"A great actor and great fun."
Fellow Potter-series actor Jason Isaacs, meanwhile, highlighted his performance in the landmark BBC series The Singing Detective, adding on X: "Magnificent Michael Gambon has died. I learned what acting could be from Michael in The Singing Detective – complex, vulnerable and utterly human. The greatest thrill of being in the Potter films was that he knew my name and shared his fearless, filthy sense of fun with me."
Comedian David Baddiel described Sir Michael's theatre performance as "the best acting I've ever seen".
"First time I ever went to see any Theatre with a capital T it was Michael Gambon in Brecht's Life Of Galileo at The National in 1980," he posted on X.
"It's still the best stage acting I've ever seen. RIP."
Inbetweeners actor Blake Harrison, who worked with Sir Michael on a Dad's Army reboot wrote: "The funniest actor I've ever worked with. My lunch breaks on Dad's Army were spent wanting to hear story after story from him. A phenomenal actor."
Irish premier Leo Vardkar hailed Sir Michael as a great actor who "gave his all to every performance".
Referencing the Irish-born actor's roles as Dumbledore, on the stage, and in The Singing Detective series, Mr Varadkar wrote: "Rest In Peace. A great actor.
"Whether performing in (Samuel) Beckett, or a Dennis Potter or Harry Potter, he gave his all to every performance."