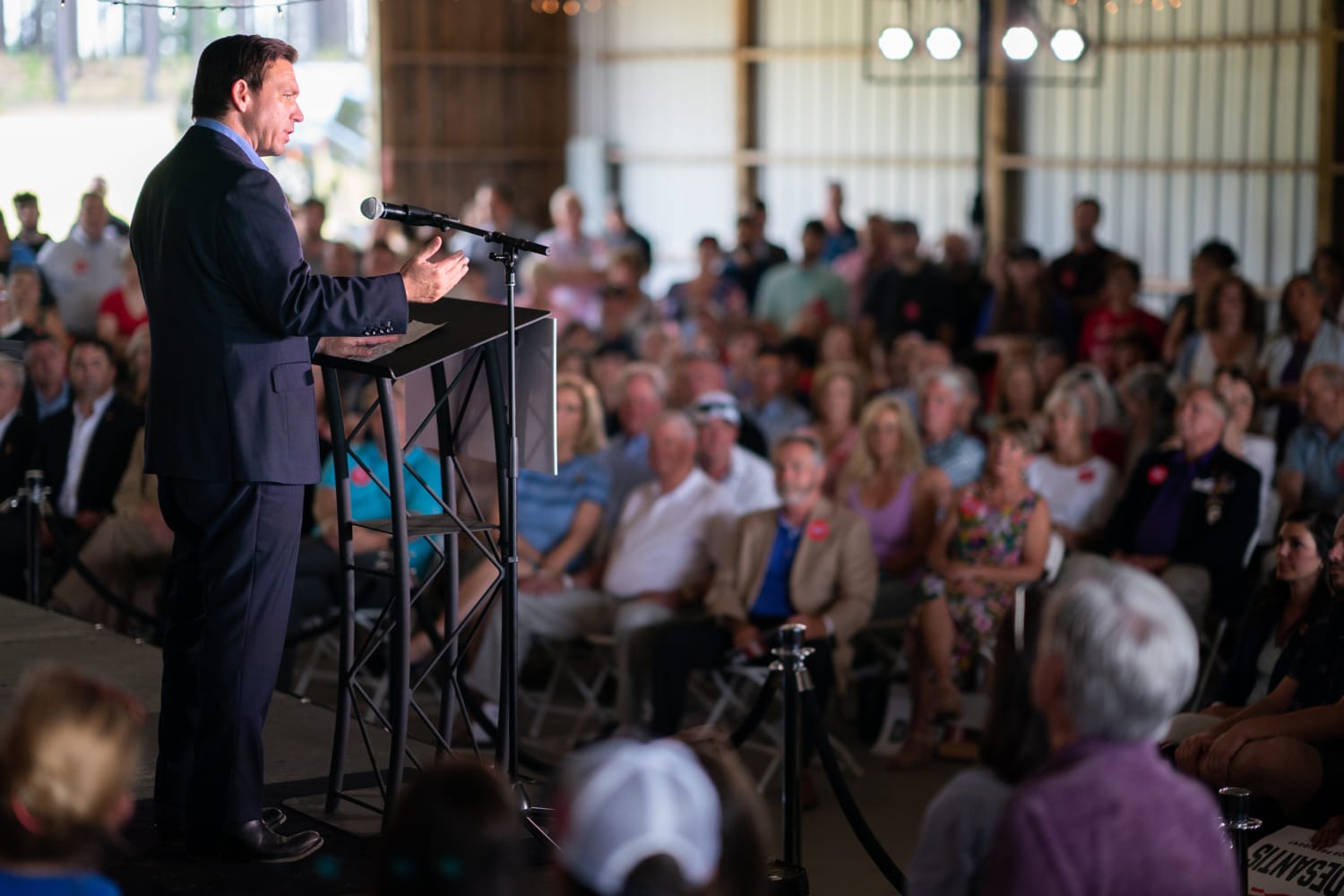 South Carolina Republicans have scheduled their presidential primary for Feb. 24, 2024 — a relatively late date that could force candidates to invest more time and money in the state while scrambling campaign strategies in the "first four" GOP contests.
With Iowa and New Hampshire potentially holding votes in January, and Nevada's plans in flux, there could be a substantial gap in the calendar before South Carolina.
"This will give our voters the chance to do what they do best — interact one-on-one with our candidates," South Carolina GOP Chairman Drew McKissick said Monday when announcing the date. "This will provide a great economic boom to our state and I look forward to welcoming all of the candidates to the Palmetto State and participating in the historic First in the South primary."
Most of the 2024 candidates remained silent on the move, including former President Donald Trump, who won the primary in 2016, and the two contenders from South Carolina: Sen. Tim Scott and former Gov. Nikki Haley. The notable exception was Florida Gov. Ron DeSantis, whose campaign quickly framed the late February date as a victory.
"This could not have shaken out any better for us," DeSantis spokesperson Andrew Romeo said in a statement to NBC News and other outlets. "We were happy to support this decision and look forward to competing to win in all four early states. Gov. DeSantis has the strongest political operation and footprint of any of the announced candidates, including Joe Biden." 
DeSantis' allies also cheered the news. 
"Actually tickled pink," said one adviser to Never Back Down, the pro-DeSantis super PAC. 
Spokespeople for other Republican campaigns, including the two South Carolina candidates, declined or did not respond to requests to comment on the record for this article. 
Josh Putnam, an expert on presidential primary rules who runs the consulting firm FHQ Strategies, cautioned against reading too much into the South Carolina decision. He noted that none of the other three early states has set a date.
Republicans in Iowa and New Hampshire are working to move their contests to January, to keep ahead of a Democratic calendar that prioritizes other states and leads off with a South Carolina primary on Feb. 3. And if Nevada Republicans are able to opt out of a Feb. 6 date set to accommodate the Democrats, they could hold a primary or caucus closer to South Carolina's vote.
South Carolina Republicans "spun it a little bit differently — that we're going to give the candidates a chance to campaign here and spend money here over the course of two or three weeks," Putnam said. "It may work out that way. But Nevada will have some say in that."
In 2016, when Republicans last had a robust competition for their presidential nomination (the 2020 primary was canceled, with Trump running unopposed for a second term), the first four states all held their caucuses and primaries within 22 days. South Carolina came third, 11 days after New Hampshire and three days before Nevada. The whirlwind allowed Trump, after narrowly losing the Iowa caucuses, to reclaim momentum by winning the next three contests in rapid succession en route to the White House.
The resources required to compete on the ground and on the air early in four states, including pricey media markets like Boston, which reaches into New Hampshire, can stretch even the flushest of campaigns. So while 2024 hopefuls may have some breathing room after the Iowa and New Hampshire gauntlet, keeping ads on TV in South Carolina could be a challenge, especially if lackluster performances in the first two states spook donors.
Putnam acknowledged that there could be an advantage for DeSantis, given the large political operation and long-haul strategy that the governor's supporters have been preparing in anticipation of fighting Trump or other GOP hopefuls deep into primary season. DeSantis is set to make his third visit to South Carolina — his second since declaring his candidacy — on Thursday with an event in North Augusta.
"I mean, if I'm sitting in DeSantis headquarters in Tallahassee, I could see where they could arrive at that conclusion," Putnam said. "It's a money thing, yes. But the deeper South Carolina goes into the calendar, the further after Iowa and New Hampshire that it is, that's just going to put pressure on other candidates to put up or shut up: What have you won lately?"
Trump leads GOP polls nationally and in South Carolina. But DeSantis consistently places second in those surveys. He's also a prolific fundraiser whose campaign and supportive super PAC, Never Back Down, are expected to have plenty of cash to promote his candidacy. A state-level political committee that backed DeSantis' re-election campaign in Florida, which he won last year by a 19-point margin with plenty of money to spare, recently transferred more than $80 million to Never Back Down. The super PAC has taken on get-out-the-vote duties, already knocking on more than 76,000 doors in South Carolina.
The political battleship that the DeSantis team is building has raised expectations for him in the early states. Failing to meet them in Iowa, New Hampshire and Nevada would raise the pressure on DeSantis in South Carolina, especially if Scott or Haley is still in the race and looking to make the case that he or she — and not DeSantis — is the strongest Trump alternative.
"There's significant support for Tim's message and vision for the country in South Carolina," said one Republican strategist who is supportive of Scott but not authorized to speak publicly on the race. "The more than 140 South Carolina endorsements he just received accurately reflects the enthusiasm around his candidacy following a great announcement in Charleston."
Another Republican, who is advising a different presidential campaign and spoke on condition of anonymity to speak candidly, cast the later South Carolina primary as bad news for Scott and Haley. 
"I think it's a death knell for their home state candidates, both of whom are likely to underperform" in Iowa and New Hampshire, the adviser said. "By adding another state before South Carolina, it forces them to be competitive in a third state. At least before they just needed to hold on until [South Carolina]. That will be more difficult."
Some observers, including Putnam, viewed the South Carolina date through the lens of Biden's first primary victory in 2020. He went 0-for-3 in Iowa, New Hampshire and Nevada but used a dominating Palmetto State victory as a catapult into the Super Tuesday states and the Democratic nomination.
A Republican could potentially do the same in 2024, especially if a stridently anti-Trump candidate like former New Jersey Gov. Chris Christie shakes up the results in fiercely independent New Hampshire and leaves the field with no clear front-runner.
"South Carolina is still the first big test of the presidential campaign, and the gap between here and Iowa and New Hampshire gives a chance to kind of reset the chessboard," said Josh Kimbrell, a South Carolina state senator who has served as a surrogate for the DeSantis campaign. "A lot of them are going to go to all the counties in Iowa, and there's nothing wrong with that, but some might want to do the same in South Carolina."
Alex Stroman, a former executive director of the South Carolina GOP who for now is neutral in the primary, took a shot at New Hampshire, exhibiting the kind of competitive trash talk that often exists among early voting states.
"Of the early primary states, South Carolina has the best record for choosing the nominee," Stroman said. "By having so much time between Iowa and South Carolina, some candidates could skip New Hampshire entirely and come right to the state that actually picks presidents."