Five people were injured in Texas after tornadoes hit the Dallas area Tuesday as the Southern U.S. braced for heavy rain and Northern states faced blizzard conditions, officials said.
The injuries, which were reported to be minor, occurred after a tornado struck Grapevine, a city of around 50,000 between Dallas and Fort Worth, the city government said.
The National Weather Service in Fort Worth said there may have been 12 tornadoes, which will be confirmed by storm surveys. An already confirmed tornado was said to have been an EF-2 with 125 mph winds in Wise County, it said.
In Louisiana, a woman was hospitalized and two people were missing after a tornado touched down south of Shreveport, damaging several homes and knocking down trees and power lines, the Caddo Parish Sheriff's Office said in a statement. The woman's condition wasn't immediately known.
About 20 people were injured in Farmerville, Louisiana, a town about 30 miles northwest of Monroe, where there were multiple reports of damage Tuesday night, according to police.
The severe weather in Texas occurred as a major winter storm was also pummeling the Rockies and the northern Plains states, with more than 10 million people under winter weather warnings or advisories.
Another 643,000 were under blizzard warnings, mostly in Wyoming, South Dakota and Nebraska, according to the weather service.
High winds toppled big-rig trucks Tuesday morning in Parker and Wise counties in Texas, according to the National Weather Service's Storm Prediction Center.
A storm passed through Rockwall County, Texas, pelting the area with hail the size of tennis balls, officials said.
Dallas-Fort Worth International Airport issued a "shelter in place" warning at 8:51 a.m. asking anyone near the airport, one of the country's busiest, to hunker down and stay away from windows. The caution was cleared in less than 10 minutes.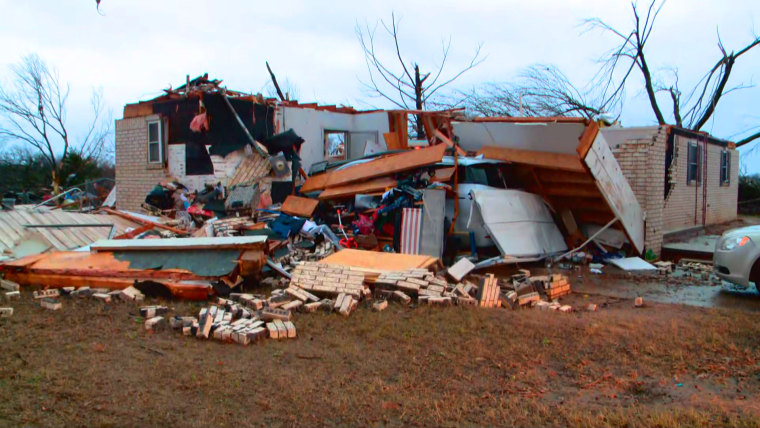 In McClain County, Oklahoma, south of Oklahoma City, what is believed to have been an EF-2 tornado with winds of up to 125 mph was on the ground for around 3 miles, according to the weather service in Norman.
No injuries were reported, according to the weather agency, but the county emergency management agency reported multiple "family structures damaged," with power poles and trees in the roads.
Students of Wayne Public Schools in McClain County were told to stay home Tuesday because of "no electricity and the high probability of storm damage," the district said.
In Grapevine, the severe weather struck at 8:45 a.m., police and the city said in a statement.
Downed power lines and trees littered roads, and authorities asked residents to avoid certain neighborhoods as public safety crews to their work Tuesday.
The strong winds appeared to peel off parts of the roof of the Sam's Club. The megastore, along with the Grapevine Mills mall and Walmart in Grapevine, was closed for the day as several "city roads remain closed due to debris and downed power lines," police said.
In the frigid weather in the Northern part of the country, all roads from Nebraska into Colorado were closed Tuesday because of the major winter storm, which included very low visibility, the Nebraska Transportation Department said.
"If your destination is west, now is the time to stop," it warned, urging travelers to find safe places to ride out the storm. Interstate 80 was closed from North Platte to Wyoming.
Roads were closed in South Dakota, too. Interstate 90 was closed from Chamberlain to Wyoming, and there were travel advisories elsewhere, the state Transportation Department said.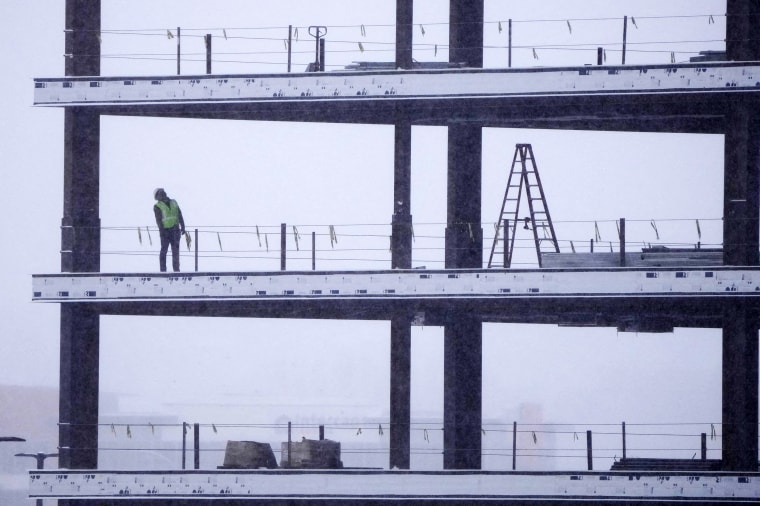 Westbound Interstate 70 was closed near the Kansas-Colorado border because of fear of dangerous winter weather, officials in both states said.
Heavy snowfall made travel difficult throughout much of the region as a blizzard warning in Scottsbluff, Nebraska, was set through 5 a.m. MT Thursday.
Up to 20 inches of snow was forecast to fall on the far western edge of the state.
Steve Strouss, TJ Swigart, Tim Stelloh and Joe Studley contributed.