Former President Donald Trump is facing about 30 document fraud-related charges in New York City connected to hush money he allegedly paid to cover up affairs, two sources familiar with the matter told NBC News after he was indicted Thursday.
The exact charges are unknown because the indictment remains under seal until Trump — who is campaigning to reclaim the presidency in 2024 — is expected to appear in court for his arraignment Tuesday, though Manhattan District Attorney Alvin Bragg could unveil them sooner.
The case is just one of at least three criminal probes into Trump, who during his single term in office also earned the ignoble distinction of being the only U.S. president in history to be impeached twice.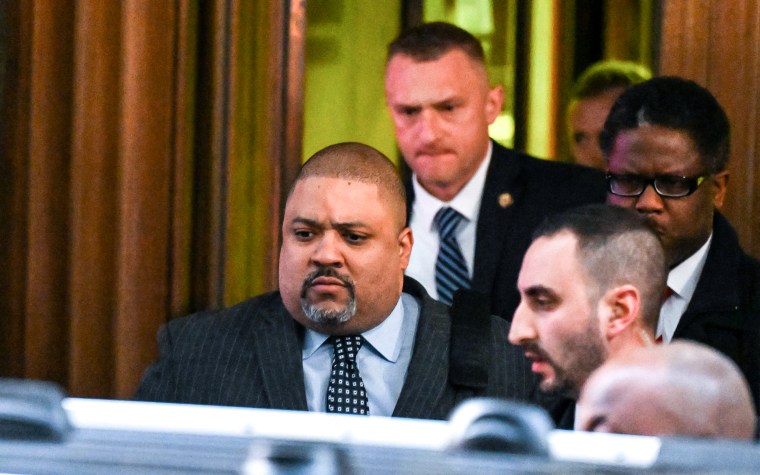 "Although Alvin Bragg is the first prosecutor in the history of our country to indict a former president, he's likely not going to be the last," Dave Aronberg, the prosecutor in Palm Beach County, Florida, where Trump lives, said on MSNBC on Friday.
Trump also faces both federal and state investigations into his efforts to overturn the 2020 election, which have been gaining steam. The federal special counsel is also investigating Trump's role in hundreds of documents with classified markings being found at his Florida home and private club.
The New York City case centers on more than a quarter of a million dollars paid ahead of the 2016 election to two women, including adult film star Stormy Daniels, to remain quiet about affairs he allegedly had with them, which prosecutors are expected to say Trump tried to illegally hide.
The large number of charges likely stems from prosecutors making separate charges for each payment in question.
Trump has denied the affair but acknowledged the payments. 
Two sources familiar with the Manhattan grand jury's work say prosecutors also questioned witnesses about a previous alleged hush money payment to former Playboy playmate Karen McDougal.
In 2018, longtime former Trump attorney Michael Cohen pleaded guilty to breaking campaign finance laws and admitted to making hush money payments of $130,000 and $150,000 to two women "at the direction of a candidate for federal office" — a clear reference to Trump, though he was not named — "with the purpose of influencing the [2016] election," according to court documents.
The sums match the amount paid to Daniels and McDougal.
McDougal had said she had a monthslong affair with Trump not long after he married Melania Trump, which Trump has denied. She was paid through the parent company of the National Enquirer, a Trump-aligned tabloid that purchased exclusive rights to her story, which it never published, in a "catch-and-kill" operation to protect Trump.
Cohen is now the government's star witness. Prosecutors are expected to allege that Trump falsified business records to cover up the payments to Daniels and McDougal, which they are expected to say amounted to illegal campaign expenditures.
Prosecutors are expected to charge Trump with falsifying business records, a crime that gets upgraded from a misdemeanor to a felony when the false records are used to cover up another crime, which in this case would be campaign finance violations.
Trump has said the payments were a legal expense and that he did nothing wrong, alleging the prosecution is a political witch hunt. 
"The Judge 'assigned' to my Witch Hunt Case, a 'Case' that has NEVER BEEN CHARGED BEFORE, HATES ME," Trump wrote on his Truth Social platform Friday.
Trump attorney Joe Tacopina said in an interview on NBC's "TODAY" show Friday that there is "zero chance" the former president will take a plea deal, insisting Trump expects to be vindicated either before or during a trial.
"President Trump will not take a plea deal on this case. It's not gonna happen," Tacopina said. "There's no crime. I don't know if it's gonna make it to trial because we have substantial legal challenges."
Security is tight around the courthouse in lower Manhattan, and the New York City Police Department told its entire uniformed police force to prepare for deployment Friday in case of unrest as some Trump supporters called for protests.
"There are no credible threats to the city at this time," said the city's police commissioner, Keechant Sewell, adding that "the NYPD always remains prepared to respond."
Republicans — including those hoping to defeat Trump in 2024 — rallied behind the former president, vowing to investigate and protest the Manhattan DA for an indictment they say is politically motivated.
While Trump and his allies claim he is being singled out on charges that are rarely brought by prosecutors, experts note the Manhattan DA regularly brings such cases.
Still, many legal experts have wondered if felony charges would stick in Trump's case, and the Manhattan DA's office previously decided against charging Trump for that reason. Bragg may have new evidence to strengthen the case.
CORRECTION (March 31, 2023, 12 p.m. ET): An earlier version of this article misspelled the name of Trump's attorney twice. He is Joe Tacopina, not Tacopino or Tacopinas.