90 minutes not enough to crown World Cup winner
France and Argentina are headed for at least 30 more minutes of play with the score tied, 2-2.
Extra time in the World Cup final is far from uncommon as Germany needed more than 90 minutes to defeat Argentina, 1-0, for the 2014 crown in Brazil. Mario Götze scored in the 114th minute for the Germans.
Photos: Kylian Mbappe's back-to-back goals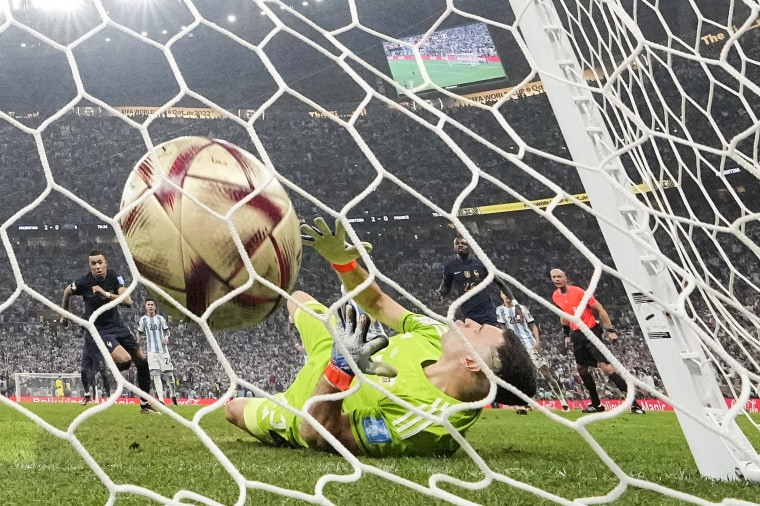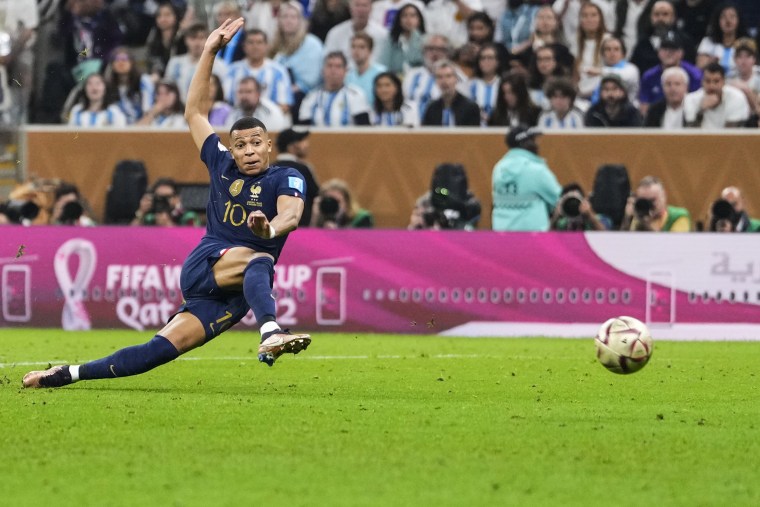 8 minutes of added time
The officials have added 8 minutes on at the end here.
Is there time for one last dramatic twist or are we heading for an extra 30?
Argentina gives up lead, echoing mistakes in Netherlands game
Soccer fans are in disbelief as France rallied from 2-0 goal deficit with back-to-back goals from Kylian Mbappé at about 80 minutes of play.
Argentina is echoing recent mistakes made in the game against the Netherlands earlier in the tournament. The Dutch team equalized the game with two late goals in the quarter-finals. Argentina scraped a win on penalty kicks to advance into the semifinals.
France's comeback was unlikely after giving up so much of the momentum to Argentina early in the game but clearly not impossible.
GOAL!! 2-2
Incredible. Kylian Mbappé has scored again, a second goal in 2 minutes.
A remarkable turnaround from the reigning champs, barely threatening for 80 minutes but suddenly bursting into life to level the final and stun Argentina.
GOAL
It's 2-1 with 10 minutes to go after Kylian Mbappé converts the penalty kick.
Hugo Lloris staying busy, keeping France's slim hopes alive
The French captain has made four saves for Les Bleus, limiting what could be an even more one-sided match.
On the other side of the pitch, Argentina's Emiliano Martínez has not yet needed to stop an on-target French shot.
PENALTY TO FRANCE
France has a golden chance to get back in the final!
Nicolas Otamendi brought down Randal Kolo Muani inside the area, and after failing to threaten for 80 minutes, the holders have a chance.
France finally takes a shot on goal after an hour of play
Kylian Mbappé took the first shot on goal for France at the 70-minute mark of Sunday's final match.
Les Bleus are being devastated by the Argentine team, which has taken nine shots on goal and leads the scoreboard 2-0. It's been an abysmal attempt to keep the title of reigning champions from France despite a strong defense and a lineup of stars.
Hugo Lloris making two big plays to keep match within sight
Julián Álvarez's left-footed blast from a short angle was saved nicely by Hugo Lloris in the 59th minute.
Then moments later, the French captain made a desperate, sliding clearance to keep the ball away from Alexis Mac Allister and what could have been another goal for Argentina.
Argentina eases its attack, plays keep away from France
In a big shift in tactics, Argentina came into the second half taking its time as it looks to secure its lead without exhausting its players.
The team came back after the break and appeared to be slowing down the pace of play. With a 2-0 lead, Argentina is looking to keep possession away from France but without the pressure it previously applied.
France had to come back with a more aggressive offensive than it applied at the beginning of the match. All eyes were on Kylian Mbappé, an upstart young player who has quickly become a household name to soccer fans.
But Mbappé, 23, hasn't shown the powerhouse attacks that have made him a French favorite.
France not making much headway into Argentina defense
Twelve minutes into the second half, Les Bleus have barely made a dent into Argentina's stout defense.
Argentina still holds a solid advantage in possession, holding on to the ball 47% of the time, compared to France's 37%.
This 2-0 deficit is looking more mountainous by the moment.
Was it a penalty kick? Referee's call draws scrutiny
Polish referee Szymon Marciniak wasted no time pointing to the spot when Angel Di Maria went down under the challenge of Ousmane Dembele midway through the half.
There appeared to be minimal contact, but the Video Assistant Referee saw nothing worthy of overturning the call. It will be scrutinized long after the game is over, but France has failed to perform regardless of the merits of the decision.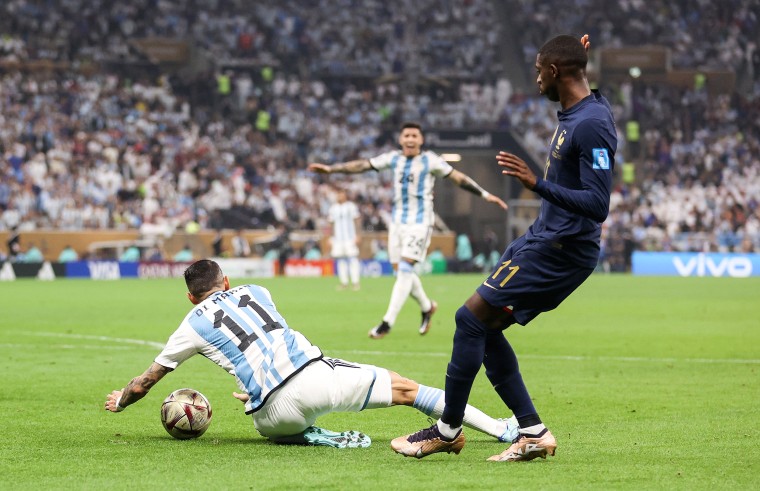 Second half underway
Argentina is 45 minutes, and maybe a few more, from glory.
France needs to turn things around to overcome the 2-goal hole it's left itself in.
France, down 2-0 at halftime, looking for a Swiss miracle
Only one team has ever rallied from a two-goal deficit in World Cup final history, and that was staged by a country that's no longer on the map.
In a match known as the "Miracle of Bern," Hungary scored twice in the first eight minutes before West Germany came back for a 3-2 victory in the 1954 final played in the Swiss capital.
France's mountain will be much more steep that West Germany's in "Das Wunder von Bern" as the underdogs responded immediately with two goals that had the match tied at halftime.
Helmut Rahn scored the winner in the 84th minute.
A goal fit for the final
Argentina's second was a thrilling goal that saw them sweep forward at pace, exposing France's defense with pinpoint passes from Messi and others.
The inclusion of Angel Di Maria for Argentina was a slight surprise, but he won the penalty and then converted the second to justify coach Lionel Scaloni's big call.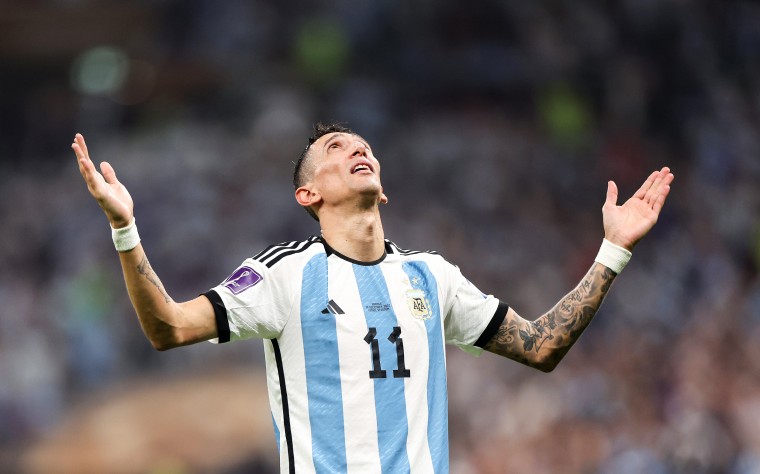 Reigning champs outplayed
Though France came in as the World Cup's reigning champions, they failed to show up in the first half against Argentina.
The French team has shown a strong defense throughout the tournament and sought to pick its moments to attack. But cracks showed in the goals from Lionel Messi and Angel Di Maria, and with the defense under pressure France's attack has failed to fire.
Argentina has 6 shots to 0 from Les Bleus, who will have to come out of halftime with a more aggressive game if they plan to overcome the deficit.
Struggling France makes early subs
France has barely had a kick so far, and now coach Didier Deschamps has made a pair of changes just before half time.
Center forward Olivier Giroud and wide forward Ousmane Dembele have been replaced by Marcus Thuram and Randal Kolo Muani, who scored in the semi final.
It's surprisingly early to make drastic changes but France needs to shift things, and there were reports of players being struck by a cold virus and some injuries in the past week.
Argentina fans overjoyed as team leads first half 2-0
Argentina fans in Qatar and around the world are besides themselves after a surprise goal from Angel Di Maria offers the team a deeper advantage before the conclusion of the first half.
France is being dominated offensively as Argentina attempts to take their title as reigning champions.
GOAL FOR ARGENTINA
It's 2-0!
Argentina burst through the French defense with a sweeping move on the counterattack and Angel Di Maria lifts his finish past helpless French goalie Hugo Lloris to double his side's lead.
Another free kick for France
France was awarded a second free kick after Argentina fouled Olivier Giroud as he approached the goal.
It's the second free kick where France failed to score in the first half hour of the game.
GOAL
Messi sends the goalie the wrong way and puts Argentina 1-0 up in the World Cup final.
Penalty to Argentina
Argentina has a penalty after Angel Di Maria was tripped inside the box by a French defender. A chance for Lionel Messi to give his team the lead…
France fails to take lead with free kick
France squandered the opportunity to take the advantage early on after being given a free kick just before the match hit the 20 minute mark.
The kick, taken by Antoine Griezmann, sailed toward Argentina's box where Olivier Giroud attempted to assist the ball into the net.
Unfortunately for the French, the bail sailed well over the net.
Photos: Fans gather in Paris and Buenos Aires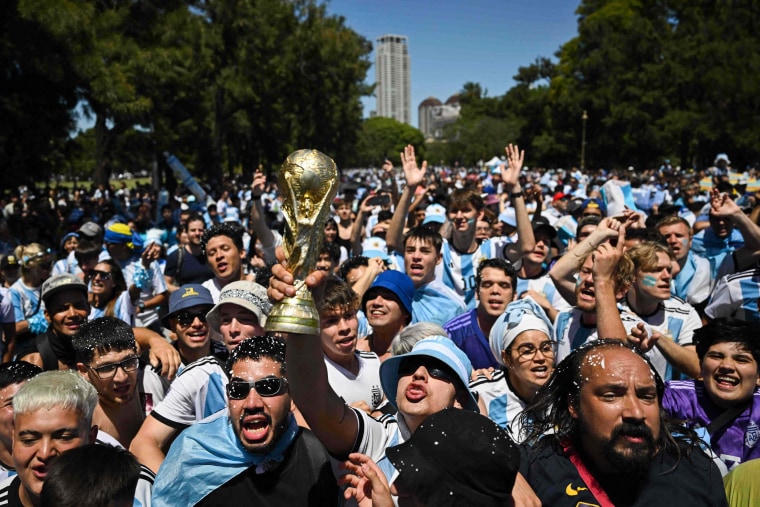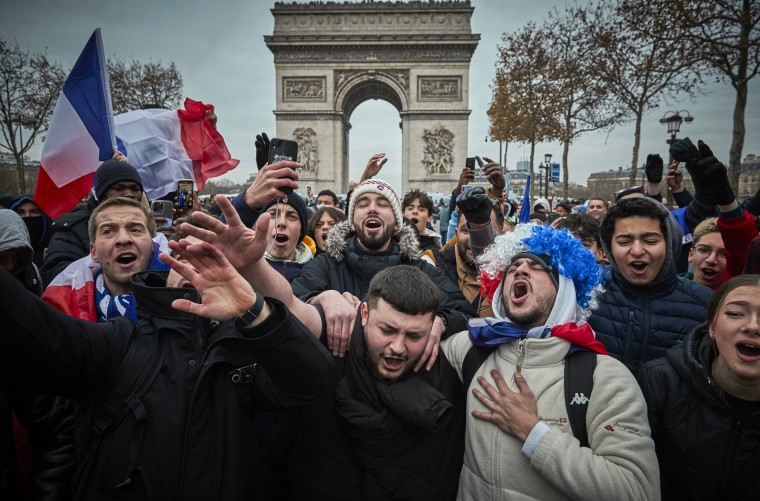 Roars all around the fan zones in Doha
DOHA, Qatar — Hundreds of roaring fans took to the jam-packed fan zones across Doha as an alternative to the main stadium.
Ahmed Eid, 22, who is Saudi Arabian, said he was rooting for Argentina. "Because Messi. I love Messi," he said.
Another Argentian fan Daniela Tabia, 35, cried as the national anthem played moments before kickoff. "Soccer unites the people," Tabia, who is Cuban-Columbian told NBC News.
Argentina starts on the front foot
Argentina has applied pressure to the reigning champions early on in the final.
The team has already has a couple attempts on France's goal in the first 15 minutes of the gave, failing to score.
Messi led his team into the box for one failed shot on goal, but France's defense has proved hard to break down through the tournament
Argentina earned its first corner kick at about 10 minutes, however. It was taken by Messi and led to chaos in front of the goal that saw Hugo Lloris, the French goalie, go down as he got hit in the stomach while players scrambled.
Will Mbappé repeat Pelé's run?
The golden name in French soccer, forward striker Kylian Mbappé, will attempt to emulate the success of the Brazilian superstar Pelé today.
In 2018, Mbappe joined Pelé to be the only teenagers ever to score a goal at a world cup final. His stunning performance led France to its ultimate victory.
On Sunday, he goes up against his club teammate and Argentian captain, Lionel Messi, to secure his first two world cups, back-to-back, just like Pelé.
Elon Musk seen at FIFA World Cup Final
Elon Musk, Tesla CEO and the new owner of Twitter, was seen at Lusail Stadium in Qatar attending the final.
Musk has been making headlines over his recent changes to Twitter policies, including suspending accounts of multiple journalists who cover him. He recently changed Twitter's terms and conditions to ban accounts who track the locations of private airplanes. He justified the decision by citing safety concerns.
Some Twitter users joked the risk of posting Musk's attendance at the World Cup for fear he might ban accounts for sharing his real-time location. The new Twitter policies don't ban users from posting their own location, which Musk did shortly after others noted his appearance at the game.
Americans in Paris cheer for France
PARIS, France — Minneapolis resident Casie Budolfson, 47, who was on a holiday with her 13-year-old son Rylan, was cheering for France.
"We're gonna support France since we're in Paris," she said, adding the French team was stronger.
"I think we should have more world sports events like this because everybody seems to put aside all their worries and watch the games," said Budolfson. "Everyone just comes together," she added.
Final reminder: Here's how to watch the World Cup final
U.S. TV viewers can watch the Argentina-France match on their local Fox or Telemundo stations, for English and Spanish broadcasts, respectively.
Fox and Peacock will also stream the title match with kickoff at 10 a.m. EST from Lusail Stadium in Qatar.
"The party is going to be here," French fans cheer in Paris
PARIS, France — French fans from all across the country have flocked sports bars in Paris, as a celebratory festive mood takes over the streets before the big match kicks off.
"The party is going to be here, it's going to be better," Lucas Yocom, 21, who came with his three friends from Vosges in northeastern France, told NBC News, adding that there was "no chance" for Argentina to win."They have just Messi; we have a good team. A very good team. Everyone on the team," he said.
The lineups are in
Here are how the teams line up for the World Cup final.
The headlines appear to be the return of experienced midfielder Angel Di Maria for Argentina, an attacking addition, and the return of Dayot Upamecano and Adrien Rabiot from illness for France.
Argentina: Emiliano Martínez; Nahuel Molina, Cristian Romero, Nicolás Otamendi, Nicolas Tagliafico; Angel Di Maria, Rodrigo De Paul, Enzo Fernández, Alexis Mac Allister; Julián Álvarez, Lionel Messi.
France: Hugo Lloris; Jules Koundé, Raphael Varane, Dayot Upamecano, Theo Hernandez; Aurélien Tchouaméni, Antoine Griezmann, Adrien Rabiot; Ousmane Dembélé, Kylian Mbappé, Olivier Giroud.
The last time they met
Today's finalists also clashed in Russia in 2018.
A topsy-turvy game in the final 16 of that tournament saw France win 4-3. This Argentina side is much improved, however, and both teams play a style that may mean we're in for a lower scoring affair this time.
Messi's grand finale
This is not just a final between Argentina and France, it's also a tussle with history for Lionel Messi.
Argentina's legendary forward will try, one last time, to clinch what would be both his first and final World Cup at the age of 35.
With over 750 goals for club and country, Messi is already in the pantheon of soccer greats. He's scored five goals so far in Qatar, putting in his best performance on the global stage, and is now hoping to lead his country to its first title since 1986.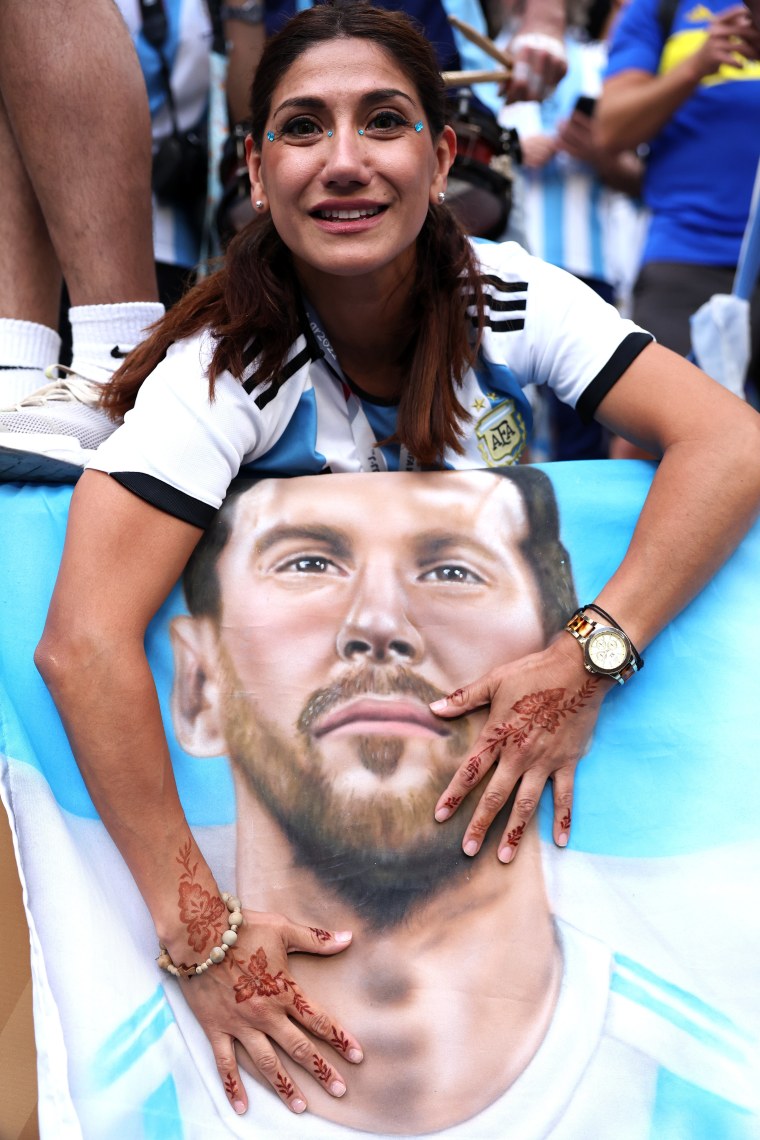 Can Messi win his first World Cup? France's Mbappé stands in the way
The first half of France's bid for back-to-back World Cups
France is back Sunday to defend its crown after beating Croatia 4-2 in the final of the 2018 World Cup in Russia.
That tournament marked the emergence of Kylian Mbappé, who was just 19 at the time. He became the only teen after the Brazilian superstar Pelé to score a goal in the World Cup final.
France's other scorers that day were Paul Pogba and Antoine Griezmann. Pogba missed this tournament through injury but Griezmann has been a key player in the French run, working tirelessly and allowing Mbappé to focus on terrifying opposition defenses.
U.S. envoy to U.N. talks sports and diplomacy
DOHA, Qatar — The U.S. ambassador to the United Nations, Linda Thomas-Greenfield, told NBC News ahead of the final that major sporting events like the World Cup can help fuel progress and smooth diplomacy.
Host Qatar has faced criticism over its human rights record, but Thomas-Greenfield said "we hope we can influence those countries to make changes to accept people who are different…and you can't do that if you're not talking to them. If you're not engaging. That's what diplomacy is about."
Scenes from the stadium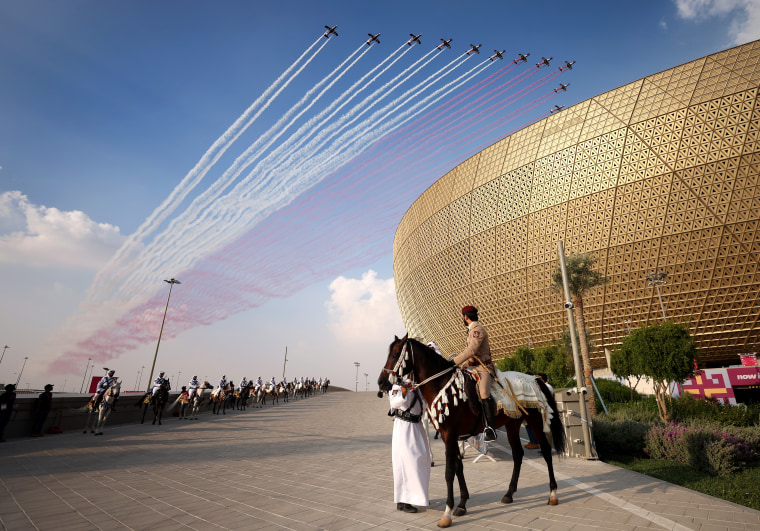 The huge environmental cost of the Qatar World Cup
Air conditioning in huge open-air stadiums, hundreds of international flights, lots and lots of lights. 
More than a million people have traveled to Qatar for one of the planet's biggest sporting events. But as it hosts the soccer World Cup, controversy is also descending on the tiny Gulf kingdom.
Alongside concerns over human rights, anti-LGBTQ laws and the treatment of migrant workers — issues that have dogged the tournament for years — critics say Qatar 2022 will be one of the most environmentally damaging of modern times.
Read the full story here.
All France wants for Christmas…
A World Cup in winter may feel strange, but fans taking part in the traditional Christmas bath in Nice this morning appear to have made a virtue out of it.
The song that's become the anthem for Argentina's run
If you've watched an Argentina game this World Cup, you've heard it.
Fans clad in blue-and-white have belted it out in the stands, on the streets of Doha and back home in South America. The team has joined in after games both on the field and in videos from the locker room.
"Muchachos," which was written by a fan, includes references to soccer greats Diego Maradona and Lionel Messi. It also knocks rival Brazil and pays homage to the Argentine soldiers who fought in the Falklands war against Britain.
"Guys, now we're getting our hopes up again, I want to win the third one, I want to be a world champion," says the chorus of the song you'll surely be hearing again once the game begins.
Morocco's surprise World Cup run rallied a legion of Arab fans
Morocco won't be in today's big game, but the team's fairytale run to the semi finals will go down as one of the stories of this World Cup.
Led by coach Walid Regragui, the Atlas Lions beat Belgium, Spain and Portugal thanks to a style that combined stout defense with daring counterattacks.
Morocco lost to France in the semi finals, but not before they sealed their place in soccer folklore as the first African and Arab team to reach that stage. The run was backed by a legion of loud and proud fans in Qatar and beyond.
Read the full story here.
Why Qatar may see the World Cup as a win despite the criticism
Qatar's World Cup appeared to be a public relations disaster.
The event has become a magnifying glass for the tiny petrostate's human rights record, highlighting rather than airbrushing its treatment of LGBTQ people, women and migrant workers. On the field, the Qatari national team's performances earned it the sorry record of being the worst showing by a host nation in the competition's 92-year history.
But for this gas-rich Gulf peninsula, the real spoils of this tournament may be found elsewhere: satisfied visitors, business deals and international recognition that could lead to greater national security.
Read the full story here.
How they made the final
France qualified easily from the group stage and beat Poland in the first knockout round, before squeezing past England in the quarter final. Surprise package Morocco, the tournament's Cindarella team, were waiting in the semi final but Les Bleus advanced thanks to an early goal from defender Theo Hernández and a late second from young substitute Randal Kolo Muani.
Argentina opened its campaign with a shock defeat to unfancied Saudi Arabia but still recovered to top its group. A narrow win over Australia was followed by a tense penalty shoot-out victory over the Netherlands, which had knocked out Team USA a round prior. Messi then led a comfortable semi final win over Croatia. which had knocked out favorites Brazil a round earlier.
Bronze goes to…
It's the game nobody really wants to play in or let's face it, watch. But the 3rd place playoff gives the losing semifinalists a chance to exit on a high despite their disappointment at missing out on the big game.
On Saturday Croatia beat Morocco 2-1 to seal 3rd place, following their loss to France in the final in Russia in 2018.
Read the full story here.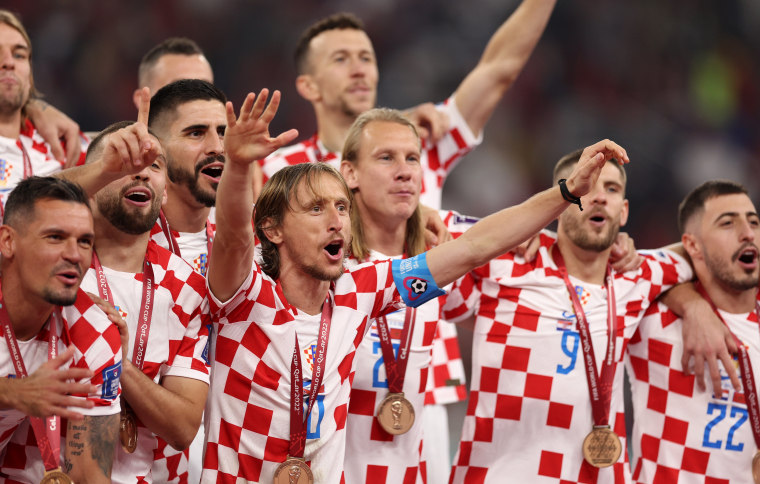 A final for the ages
France, winners of soccer's most coveted trophy in 1998 and 2018, is seeking to become the first team to win back-to-back men's World Cup titles since Brazil did it in 1958 and 1962.
On the other side Argentina is hoping to capture the country's first World Cup title since the 1986 tournament, best known for a quarterfinal victory over England that featured legend Diego Maradona's "Hand of God" goal.
Les Bleus against La Albiceleste. Kylian Mbappé against Lionel Messi. 
Follow our coverage here through kick off at 10 a.m. ET and beyond.