Hollywood actors Ryan Reynolds and Rob McElhenney are investing in a Formula One team in their latest sporting venture.
The Deadpool star, along with business partner and It's Always Sunny In Philadelphia co-creator and actor Rob McElhenney, both 46, saw Wrexham AFC promoted to the Football League following a 15-year absence after taking over the Welsh football club in 2021.
The pair have now become part of a $200m (£157m) investment in Alpine Racing, it was announced on Monday.
Reynolds' Maximum Effort production company has teamed up with Otro Capital and RedBird Capital Partners, while Black Panther star Michael B Jordan is also among the investors.
The investment represents a 24% stake in Alpine, which finished fourth in the F1 constructors' championship last year and currently sits fifth in the rankings after eight races of the 2023 season.
The news was announced by the team's parent company Renault, and James Toney, who co-founded Maximum Effort Investments with Reynolds.
Mr Toney said on renaultgroup.com: "Maximum Effort Investments focuses on unlocking value through the power of storytelling, and we believe there is tremendous untapped potential in Alpine Racing.
"We are eager to help shine a light on this incredible team. We're thankful to our partners at Otro Capital and RedBird Capital Partners and look forward to diving in with them, as well as our co-investors Michael B Jordan and Rob McElhenney."
Since taking over Wrexham in February 2021, McElhenney and Reynolds, along with their popular Welcome to Wrexham docuseries, have propelled the club into the global spotlight.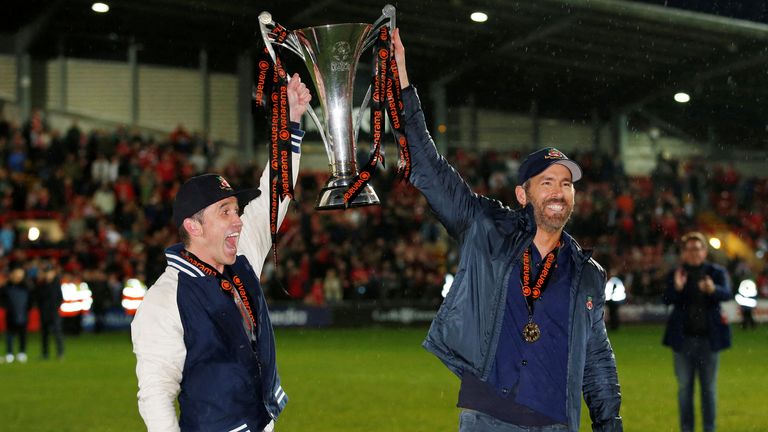 Read more:
Wrexham fan with terminal cancer meets Ryan Reynolds
Has Ryan Reynolds got his eye on a new sporting venture?
Alpine, which has a factory in Enstone, Oxfordshire, won the F1 constructors' world championships in 2005 and 2006 when it competed as Renault's works team and also as Benetton in 1995.
Since the Renault team was rebranded as Alpine in 2021, it has achieved one victory and three podium finishes, with French racing driver Esteban Ocon coming third in the Monaco Grand Prix this season.
Ocon sits ninth in the drivers' championship, with his team-mate, French racing driver Pierre Gasly, one place further back.