Firefighters work on extinguishing a fire at a fuel depot after reports of an explosion in Voronezh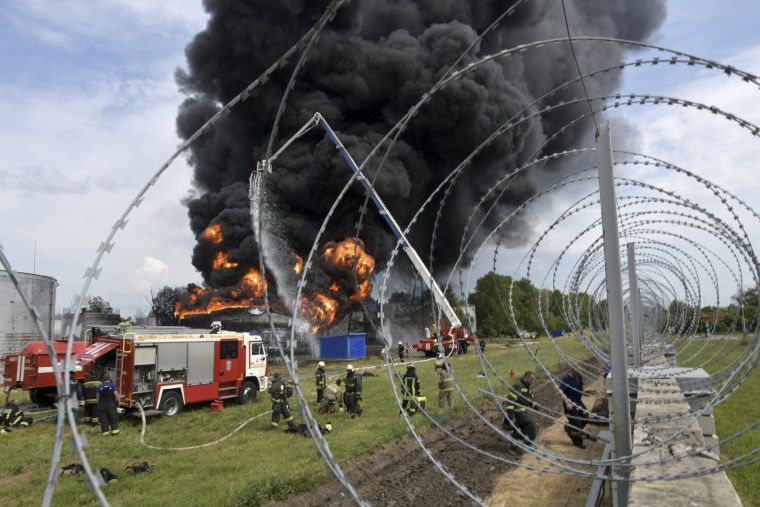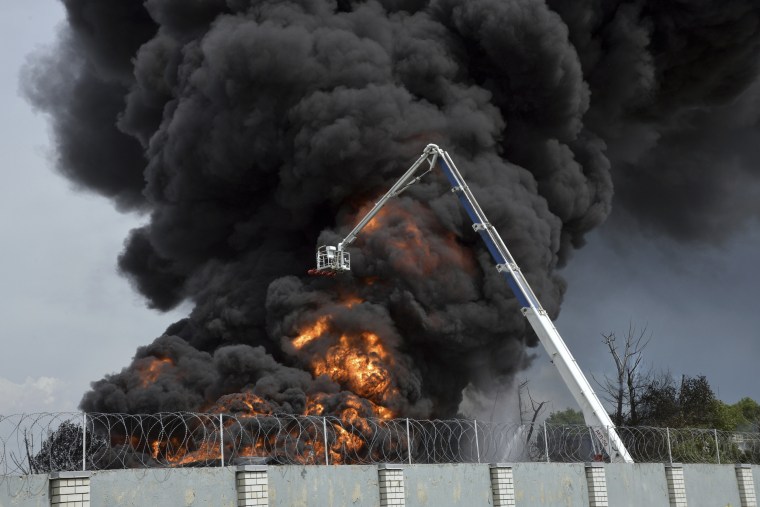 Moscow's mayor asks residents to refrain from travel, declares Monday non-working day
Moscow's mayor, Sergei Sobyanin, said in a message posted to Telegram that a "counter-terrorist operation" is underway in the city and that city services are on "high alert," according to a translation.
He called for residents to "refrain from traveling around the city as much as possible" and said traffic could be blocked in certain areas.
He added that he has declared Monday a non-working day except for key services and the military.
Biden speaks with leaders from France, Germany and U.K. about Russia
Biden spoke with President of France Emmanuel Macron, Chancellor Olaf Scholz of Germany and U.K. Prime Minister Rishi Sunak by phone today to discuss the situation in Russia, the White House said.
They all affirmed their unwavering support for Ukraine during the call.
Ukraine Defense Ministry suggest now would be a good time for Russian soldiers to go home
The Ukraine Ministry of Defense recommended Russian soldiers leave Ukraine and address the revolt at home, but the ministry didn't care which side they aided — whether the Russian state or the Wagner Group.
In a fairly glib tweet on Saturday, the Defense Ministry said it was curious why Russian soldiers "are still sitting in muddy trenches." Their efforts, the ministry suggested, could be better used at home.
"That would be far safer than confronting the Ukrainian army," it said in a tweet.
Harris, Blinken and several other officials have been briefed on Russia
Vice President Kamala Harris attended Biden's briefing by the administration's national security team on the latest developments in Russia this morning, the White House said.
National Security Advisor Jake Sullivan, Secretary of State Antony Blinken, Secretary of Defense Lloyd Austin, Joint Chiefs of Staff Chairman Mark Milley, Director of National Intelligence Avril Haines, Director of the CIA Bill Burns, and U.N. Ambassador Linda Thomas-Greenfield also participated in the briefing.
Biden and Harris will continue to be briefed throughout the day, the White House added.
Ukrainian commander says his forces have liberated territory held since 2014
Ukrainian forces have liberated territory near the territories near the city of Krasnohorivka in the eastern Donetsk region that has been held by pro-Russia separatists since 2014, a Ukrainian commander said Saturday.
Oleksandr Tarnavskyi made the annoucnement on his Telegram channel, adding, "the movement of our forces continues."
NBC News could not independently verify his claim.
Mass events canceled in Tambov as Wagner moves forward
Mass events, including high school graduation parties, were canceled in the Russian region of Tambov, the country's Education Ministry said Saturday.
Such parties were postponed until July 1 in Moscow, the region around the capital and "a number of other regions where additional anti-terrorist measures have been introduced," the ministry said in a statement.
Tambov is east of Lipetsk, where Gov. Igor Artamonov earlier confirmed Wagner mercenary group equipment was on the move.
Erdogan: Turkey 'ready to do our part' to resolve conflict 'in a calm and peaceful manner'
Turkish President Recep Tayyip Erdogan spoke with Putin by phone, according to a tweet from his office.
"President Erdoğan underscored the importance of acting with common sense," the office tweeted. "It was stressed during the call that no one should take it upon themselves to take action in the face of the situation in Russia. In this sense, we as Türkiye stand ready to do our part in order for the incidents to be resolved in a calm and peaceful manner, President Erdoğan noted."
Rep. Connolly says situation in Russia may be the 'unraveling' of Putin
Rep. Gerry Connolly, D-Va., called the capture of Rostov-on-Don a "significant development."
Fighters from the Wagner mercenary group entered the city in southern Russia on Saturday morning. "This could very well be the unraveling of the Putin regime," Connolly said on MSNBC. "This is certainly the biggest existential threat he's faced in his 23 years in rule."
Connolly, a member of the House Committee on Foreign Affairs and a former head of the NATO Parliamentary Assembly, said that Putin created the Wagner paramilitary group and gave it "enormous latitude."
"He is now four, five hundred kilometers from Moscow, and seems to be intent on taking out senior leadership in the Russian military and the Defense Department and the intelligence community," Connolly said. "This is a real, serious threat to the continuation of Putin's regime."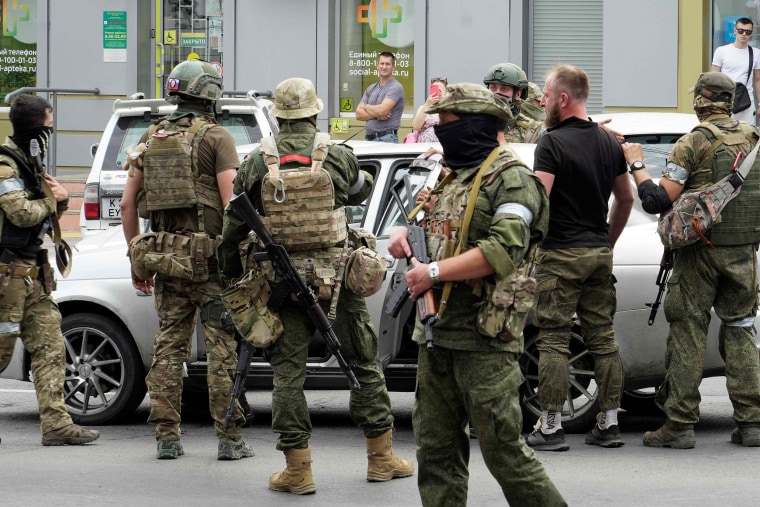 Analysis: Putin's divide and rule approach backfires
No one knows how the next 24 hours, several days or weeks will play out in Russia, writes NBC News' chief international correspondent Keir Simmons:
We know that President Vladimir Putin has an enormous power base in the officials he has known for decades and placed in positions of power.
Many of them owe their influence, in one way or another, to Putin. But many of those people also know Wagner group chief Yevgeny Prigozhin well. Kremlin officials have talked to me at length about their personal experiences working with him — so this is a fight between brothers.
For decades, Putin has taken a divide and rule approach and successfully managed warring factions, but that strategy is now backfiring.
This is a battle for who controls the Russian military and ultimately the Russian state. But the most important aspect of it, for the world, may be that this is therefore a battle for control of the country's more than 4,000 nuclear warheads. That is one of the reasons why what is happening now in Russia is so profoundly important for the world.
Neighboring Latvia closes its borders to Russians
Latvia has closed its borders to Russians, the country's president-elect tweeted Saturday.
Edgars Rinkevics said his government was closely following the developing situation in neighboring Russia and "exchanging information with allies."
"Border security has been strengthened, visa or border entry from Russians leaving Russia due to current events won't be considered," he added.
This uprising likely won't last too long, military analyst says
Ukrainians are sharing memes about the Russian infighting, but this Wagner situation is likely to be short-lived, said Kevin Baron, a military analyst and executive editor of Defense One.
"This is a civil war in the making, or at least an uprising," Baron said in an interview on "The Saturday Show with Jonathan Capehart."
But it's only "good news" for Ukraine in the "short term" as "Russia now has something else occupying its time in a big way," Baron said.
Who is in charge of nukes is key concern, recent U.S. Central Command chief says
Who remains in charge of Russia's nuclear command and control system will be the main concern for senior defense officials, said Gen. Frank McKenzie, who led U.S. Central Command before retiring in 2022.
"That's the one thing that could affect us badly if there was a problem with that," he said. "I think everybody's going to be very interested in assuring Russian nuclear command and control and aside from that, is Putin still calling the shots?"
McKenzie said that the U.S. and its allies would likely prefer Putin to remain in control of Russia, as he is a known actor. If the state around him were to collapse, however, it could be detrimental for the region and the world.
Russia controls nearly 6,000 nuclear warheads as of 2022, according to the Federation of American Scientists.
But McKenzie said that the Russians maintain powerful security systems to keep their stockpiles safe and to assure the weapons cannot be used if captured.
"The Russians actually have a pretty good permissive action link system, or PAL," the retired general said, referring to a security system that prevents unauthorized arming or detonation of nuclear devices. "So grabbing a nuclear weapons storage depot doesn't mean you're going to be able to deploy nuclear weapons. It's far more complex and protected than that."
Armored personnel carrier and police officers guard highway at entrance to Moscow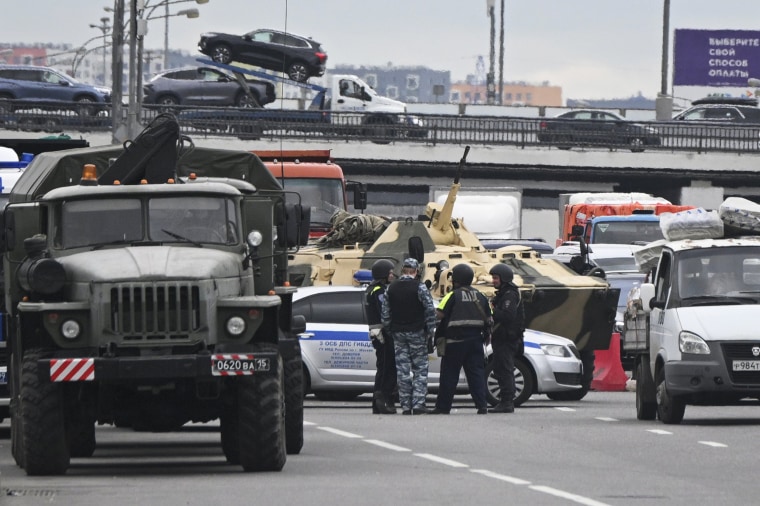 Biden monitoring situation in Russia
President Joe Biden was briefed again this morning on the latest developments in Russia, a White House official said.
The White House continues to monitor the situation, the official said.