Senior members of the Taliban responded angrily Friday to claims by Prince Harry in his much-anticipated memoir that he had killed 25 "enemy combatants."
Taliban members were quick to criticize his claims in "Spare" that looks set to escalate Harry and Meghan's feud with the British royal family, as the couple seeks to present their side of a story pitting celebrity against the centuries-old institution.  
Anas Haqqani, a senior member of the Taliban and its powerful Haqqani network, considered to be the group's most formidable fighting force, wrote on Twitter that the people Harry killed "were not chess pieces, they were humans." 
"They has families who were waiting for their return. Among the killers of Afghans, not many have your decency to reveal their conscience and confess to their war crimes," he said. 
Several British news outlets, including the broadcaster Sky News, have reported that Harry has written that he did not "think of those 25 as people." Instead, he writes, "They were chess pieces removed from the board, bad people eliminated before they could kill Good people."
The Taliban overthrew Afghanistan's Western-backed government in 2021 after two decades during which tens of thousands of Afghan soldiers, police and civilians were killed in combat, as well as terror attacks.
"It was not something that filled me with satisfaction, but I was not ashamed either," Harry wrote.
NBC News has seen and translated extracts of a Spanish language version of "Spare," which tells his side of the acrimonious royal split, ahead of its publication Tuesday.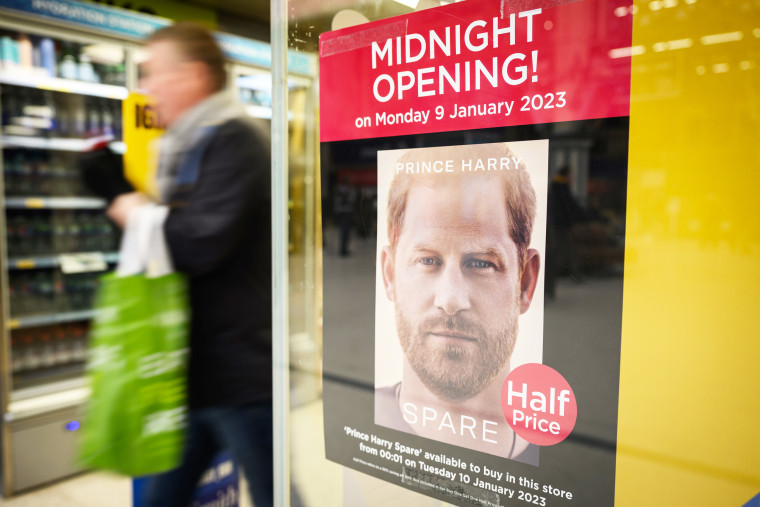 Harry, who served in Afghanistan as a forward air controller in 2007 and 2008 and again in 2012, when he was a co-pilot gunner in Apache attack helicopters, says that most soldiers don't know exactly how many people they have killed because "under battle conditions, you often fire indiscriminately." 
But, he says, in the age of Apache helicopters and laptops, everything he did during his time in Afghanistan "was recorded and time-stamped." 
"I could always tell exactly how many enemy combatants I had killed," he adds. "And it seemed essential for me not to be afraid of that figure. Among the many things I learned in the Armed Forces, one of the most important was to be accountable for my own actions."
NBC News has approached Harry's representatives for comment.
Bilal Karimi, a spokesman for the Taliban, also criticized the comments.
He said that Harry's "confession" was "proof that not only him, but all foreign forces during their occupation were involved in such crimes."
He added that Afghans "will never ever forget such war crimes and will continue to defend their country."
A spokesperson for the British Defense Ministry said: "We do not comment on operational details for security reasons."
Harry's revelations about his time in Afghanistan are among several he makes in the book, whose title is an apparent reference to him being a royal "spare" and not the first in line to the throne. His elder brother, Prince William, is the next in line to their father, King Charles III.
Among the most serious of Harry's accusations is that his brother physically attacked him during an argument over his marriage to Meghan. He also suggests that William and Kate, now the Princess of Wales, encouraged Harry to dress as a Nazi at a 2005 costume party for which he was widely criticized. 
Kensington Palace, which represents William, and Buckingham Palace, which represents Charles, declined to comment on the allegations made in the book, which comes at an awkward time for the monarchy, months after Queen Elizabeth II's death and the ascension of the new king. 
Two interviews with Harry are also set to be broadcast on ITV News in the United Kingdom and CBS' "60 Minutes" in the United States this weekend ahead of the book's release.
Mushtaq Yusufzai contributed.