A California man intentionally drove a Tesla off a 250-foot cliff in an attempt to kill his family, officials said Tuesday.
The driver and his wife and children survived and were rescued Monday at Devil's Slide in San Mateo County, the California Highway Patrol said.
Dharmesh Arvind Patel, 41, of Pasadena, was arrested and will be booked on attempted murder and child abuse charges once he is out of a hospital, the highway patrol said.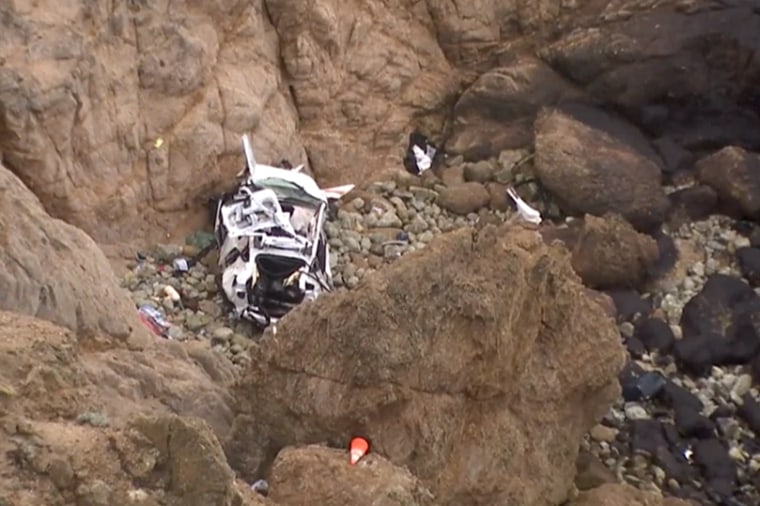 The rescue involved firefighters who rappelled down the cliff to rescue the two children, 4 and 7, and a helicopter crew who rescued the two adults from the vehicle, officials said.
The Tesla was 250 to 300 feet down, according to the highway patrol.
"Based on the evidence collected, investigators developed probable cause to believe this incident was an intentional act," the agency said in a statement.
Brian Pottenger, the incident commander for the California Department of Forestry and Fire Protection, said witnesses called 911 after the crash around 10:50 a.m.
He said that it was "very, very rare" for people to survive such a steep fall and that the children's car seats may have saved their lives.
"We were actually very shocked when we found survivable victims in the vehicle. So that actually was a hopeful moment for us," Pottenger said.
The car was traveling south on State Route 1 when it went over the cliff at Devil's Slide, south of the Tom Lantos Tunnels, and landed near the water's edge, the fire department said. It flipped and landed on its wheels.
The children had moderate injuries, Pottenger said.
Authorities plan to book Patel on three counts of attempted murder and two counts of child abuse, said Officer Andrew Barclay, a spokesman for the highway patrol's Golden Gate Division.
It was not immediately clear Tuesday evening whether Patel had an attorney who could speak on his behalf.
In 2018 in Mendocino County, which is up the California coast, two women and their six adopted children died in a crash off a cliff that authorities determined was intentional.
A special coroner's jury later concluded Jennifer and Sarah Hart killed themselves and their children in a murder-suicide.