Hollywood has been facing a summer on pause amid writers' strikes impacting TV and film productions across the globe – but things could be about to get a whole lot worse, with actors now threatening to turn their backs on the cameras too.
Not normally shy of the spotlight, members of US actors' union, Screen Actors Guild – American Federation of Television and Radio Artists (SAG-AFTRA) have voted overwhelmingly to strike if they don't come to an agreement on a new contract with major studios, streamers and production companies.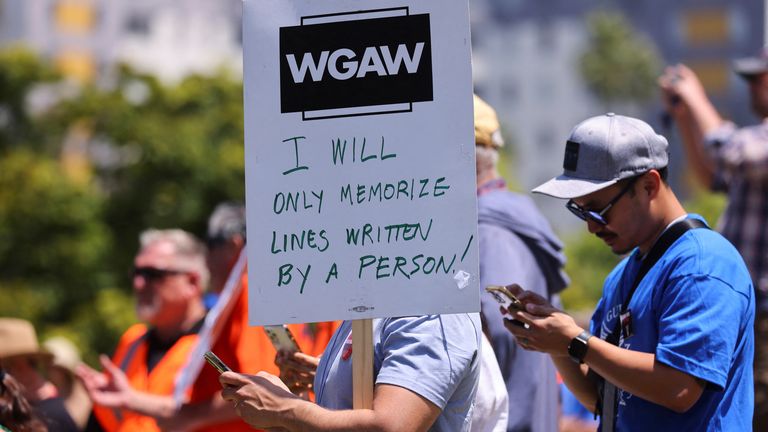 The current contract with the Alliance of Motion Picture and Television Producers (AMPTP), the group representing studios in negotiations, expires on Friday 30 June.
So, what's it all about, how might it affect our summer viewing and could we see actors' strikes here in the UK?
What do the actors want?
Actors are seeking higher pay and safeguards against unauthorised use of their images though artificial intelligence (AI).
Performers see their jobs as especially vulnerable to new technology, with generative AI able to replicate facial expressions, body movement and voice with alarming accuracy.
Many would like to see a guarantee that AI will not be used to replace the duties performed by actors, potentially rendering them obsolete.
Stars including Tom Cruise and Keanu Reeves are among the actors who have been the subject of widely viewed unauthorized deepfakes – realistic yet fabricated videos created by AI algorithms.
The streaming boom – which provides the bulk of TV actors' work – is also a big factor in contract negotiations.
Series have become shorter, breaks between seasons longer, and the unions saying that although series budgets are increasing, that increase is not being reflected in the share of the money coming to performers.
Residuals (payments for the reuse of credited work) are also much smaller on streamers compared to broadcast TV rates.
Actors have also flagged the burden of "self-taped auditions" (when actors are asked to film their own audition and send it in directly for consideration by the casting director).
This cost was previously the responsibility of the casting and production teams, who would set up auditions at a set location themselves and organise the filming of invited actors. But now that's all changed.
Benefits including health and pension plans are also under discussion.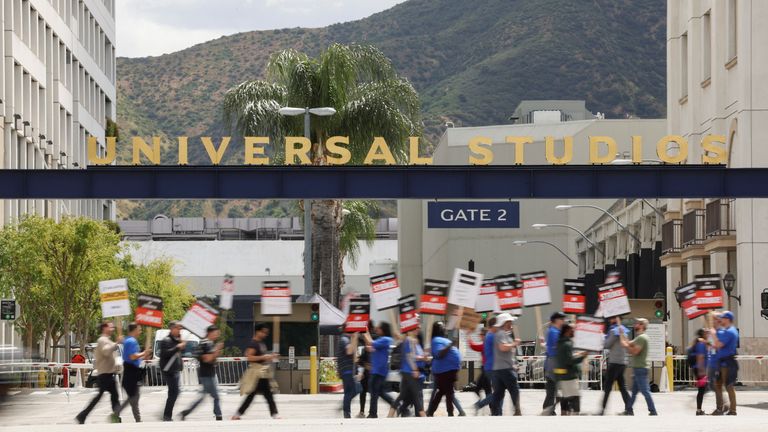 What do the studios say?
Speaking about the actors' strike, The Alliance of Motion Picture and Television Producers (AMPTP) – the association representing major Hollywood studios including Walt Disney and Netflix – said in a statement: "We are approaching these negotiations with the goal of achieving a new agreement that is beneficial to SAG-AFTRA members and the industry overall."
Members of the Writers Guild of America (WGA) have already been striking for two months, seeking higher minimum pay, more writers per show and less exclusivity on single projects.
Productions hit by the writers' strike include season five of Stranger Things, season two of The Last Of Us, season six of The Handmaid's Tale and Game Of Thrones spinoff A Knight Of The Seven Kingdoms: The Hedge Knight.
An actors' strike would lead to even further shutdowns across Hollywood, with studios already struggling to generate programming for streaming services and the autumn TV schedule.
In a statement addressing the ongoing writers' strike, AMPTP say they are offering a generous package to writers, including the largest first-year pay increase in 25 years, and call the AI issue "complicated", saying it needs "a lot more discussion".
A potential strike from directors was averted earlier this week after The Directors Guild of America (DGA) voted overwhelmingly in support of their new three-year deal with the major Hollywood studios.
However, the studios will nevertheless be feeling the pressure of negotiating with both the US writers' and actors' guilds, which align in many of their negotiating points.
With strength in numbers, any kind of coalition between the guilds would boost their bargaining power no end.
Mission Impossible star Rebecca Ferguson

What do Hollywood stars have to say about it?
Speaking to Sky News at the Mission Impossible premiere, actress Rebecca Ferguson admitted she was "scared" by advances in AI and the resulting threat to creatives in the film industry.
Highlighting the strikes currently hitting Hollywood, she said on the red carpet: "I think there are many issues that we need to talk about. And I think it's hard, isn't it? Do you put everything in one potpourri of everything to analyse and to dissect? I am scared. I don't want AI to take over.
"I also believe that we live in a world where it is active and where it will be merged, and you can't fight it. It's there and it is there to stay. It is there to be developed. But maybe we can protect ourselves and the percentage quota in contracts. Maybe we don't have to sign away and people are not allowed to use our own identity and our voices and the movement of our faces and expressions.
"Same for the writers. You know, you can get AI to write it, but will it have emotion? Will it have stamina? Is that where we want to go? Even if we can? You're giving so much of yourself away."
Many Hollywood stars have also shown solidarity with the writers' strike, with actors including Tom Hanks, Tina Fey, Colin Farrell, Mark Ruffalo and America Ferrera all joining picket lines while Drew Barrymore pulled out of hosting the MTV Movie Awards in support.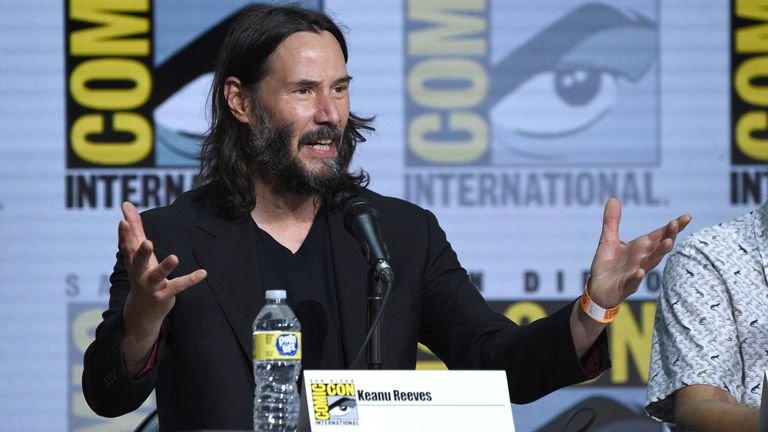 What does it mean for movie lovers?
If the actors do strike, the industry – which has already been severely impacted by the writers' strike – would come to a near-standstill, from production to promoting completed projects.
With no scripts, and no performers to bring them to life, many studios would fall dark.
Meanwhile promotion of completed projects – including big tentpole movies set to premiere over the summer – would fall away, with no actors attending red carpets, speaking on TV shows or giving interviews to print journalists.
Christopher Nolan's next mind-bending thriller Oppenheimer and the much-hyped first live-action Barbie movie directed by Greta Gerwig are just two of the massive productions due to hit cinemas next month, with premieres and promotion events planned around the big releases.
If strikes were to run into many months, next year's theatrical release schedules could run into difficulties, causing a big problem for studios who put much time and energy into selecting the release dates for their films.
Down the line, numerous film festivals leading into awards season could be hit, with carefully planned campaigns falling foul due to lack of actors to share the buzz of their films.
A more immediate problem could be San Diego Comic-Con, an annual convention which attracted over 135,000 attendees last year and which takes place at the end of July. The wildly popular event would have little to offer without the appearance of the creatives behind the films and TV shows it promotes.
Looking beyond the inevitable disappointment of movie and TV lovers, this all has a big business impact too – and money talks.
The box office has recently begun picking up post pandemic, with the US nearing $4 billion for the year and running 30% ahead of the same January-to-early June period. It's a pickup that would inevitably suffer from prolonged actor walk-outs.
News and broadcast work would not be directly affected by the strikes.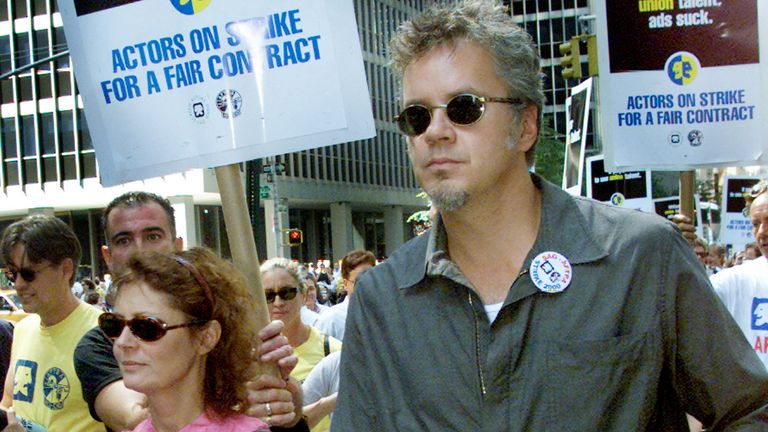 Has a US actors' strike happened before?
The last time Hollywood actors went on strike was in 2000 in a six-month dispute over their commercials contract.
The US actors' union successfully defended the "pay-for-play" TV advert payment formula, by which actors are paid residuals for the number of times their commercial airs, and reached an agreement over cable and internet advertising.
Prior to that, US stars staged a 95-day strike over terms for paid television and VHS tapes back in 1980, achieving a 32.5% wage increase and a 4.5% of the gross revenues for home media releases.
What does it mean for UK performers?
Still recovering from the COVID pandemic, and now dealing with a cost-of-living crisis, the UK film industry already has plenty on its plate.
With many British performers finding success in the US, any who are members of SAG-AFTRA will necessarily become part of the strike should it go ahead in America.
Many of those will also be members of Equity – the British performing arts and entertainment trade union – which has 47,000 members, made up of creatives including actors, singers, dancers, designers, directors, stage managers and voice artists.
General secretary for Equity, Paul W Fleming has recently been in the US for meetings with SAG-AFTRA, and told Sky News that negotiations have been "moving".
On the issue of the encroachment of AI, Fleming says: "Every industry at the minute is facing a series of existential questions about new technology and how that provides the workforce with a decent deal.
"And at the heart of all negotiations that we're doing, and certainly the claim that SAG have submitted and indeed that the writers have submitted, are those questions about how do we deal with the rapid technological change in a way that's responsible and not regressive but delivers for the workforce."
As for the audition process post-COVID, in a world of Zoom and self-taped auditions, he says it's essential to ensure that such processes aren't "exploitative".
And could an actors' strikes happen here?
In the event of a US actors' strike, Equity would be likely to advise its own membership to pause any work governed by SAG-AFTRA contracts, in a similar vein to the Writers' Guild of Great Britain which instructed its members not to work on projects within the Writers Guild of America's jurisdiction at the start of the writers' strike.
As an independent union, Equity wouldn't call its own strike in solidarity with US actors, however, Fleming says Equity is always "strike ready," describing it as one of the "key objectives" of the union.
The UK's current Pact-Equity contracts are due to enter negotiations later this year having not been updated since a 2021, when a transitional contract was put in place during the pandemic. Deals are normally struck every two to four years.
(Pact is the UK trade body which represents independent production and distribution companies.)
With all the same issues at stake as the US actors, it's likely the influence of AI, streamer payment rates and self-taped auditions will also form key parts of the upcoming UK negotiations.
Fleming says a "framework" setting out "exactly what AI is and where it is used" is what now needs to be put in place to protect performers.
Equity is already in talks with ITV over AI clauses in their agreements. So watch this space.