A 6.4-magnitude earthquake rocked Northern California early Tuesday, killing at least two people and leaving thousands in the dark as officials warned that another major jolt could still be on its way.
The quake hit at a depth of 10 miles just after 2:30 a.m. PT near Eureka in Humboldt County, the U.S. Geological Survey said. 
It struck around 7.4 miles west-southwest of Ferndale, the agency said.
Two people, ages 72 and 3, died from medical emergencies after the quake, Humboldt County Sheriff William Honsal told reporters. Emergency responders had been unable to get them to the appropriate facility in time, he said.
Another 12 people were injured, Honsal said, though he expected that number to rise.
The small city of Rio Dell, population roughly 3,300, was among the communities to have been hit hardest by the quake and the dozens of aftershocks that followed, Honsal said.
The city was expected to be without water for 24 to 48 hours and more than 30 homes were damaged, Rio Dell City Manager Kyle Knopp told reporters. Fifteen of the houses had been "red tagged," or were determined to be uninhabitable, he said.
Knopp estimated that as many 150 people could be displaced.
"There's been significant damage in other areas but it has been acute here in Rio Dell," he said.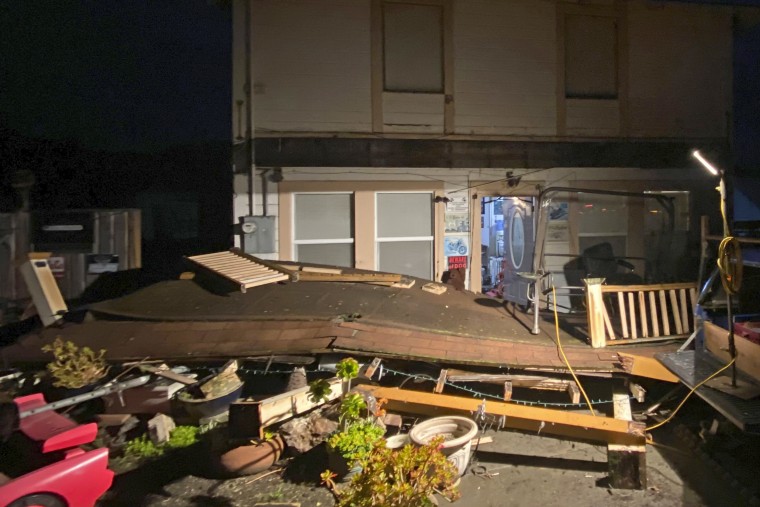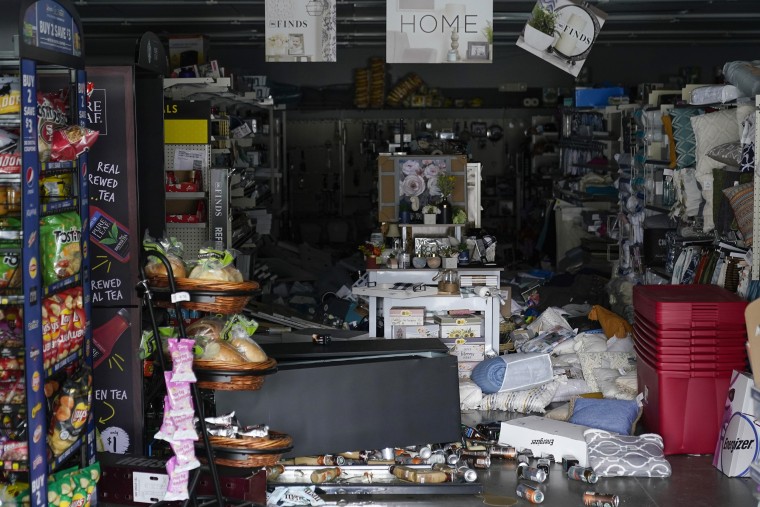 State officials urged residents across Humboldt County to be prepared for another quake.
There is a 13% chance that another powerful jolt, of magnitude 5.0 or stronger, will strike in the next week, said Cynthia Pridmore, a senior engineering geologist with the California Geological Survey.
She told county residents to gather food, water, flashlights and other supplies.
"People do need to be prepared, especially if they're in weakened structures, to be mindful of where they're staying," she said.
At least 60,000 homes and businesses throughout the county were without power as of 3:39 p.m., according to Pacific Gas and Electric.
The city of Eureka set up a charging station for residents without power to plug in their phones, computers and medical equipment, while police urged shopkeepers to keep an eye on their storefronts, as there "have already been several reports of burglaries to businesses."
"Power is out across the county," Humboldt County's Office of Emergency Services tweeted, adding: "DO NOT CALL 911 UNLESS YOU ARE EXPERIENCING AN IMMEDIATE EMERGENCY."
The county sheriff's office, which said widespread damage to roads and homes had been reported across the county, warned residents to "be prepared for aftershocks" and to check gas and water lines for damage or leaks.
"Exercise caution if traveling," it added.
A section of the historic Fernbridge in Ferndale was closed because of "possible seismic damage," the state Transportation Department said. Cracks could be seen on the bridge in a photo the agency shared online.
Mike Shapiro, a car salesman from Eureka, said Tuesday's quake jarred him awake before it knocked him down.
"I got up, took two steps and ended up on the floor. The second jolt just took my feet out from under me," said Shapiro, 54. "I'm fine, just spent three hours picking up broken glass."
Shapiro vividly recalled the 1992 Cape Mendocino earthquakes and said he has dutifully strapped down furniture and appliances ever since.
"Earthquakes generally don't make me nervous, but this one made me nervous," Shapiro said. "I'm just glad everything was strapped down. Nothing fell on us."
There was no threat of a tsunami early Tuesday, the National Weather Service's tsunami warning system said.
A number of people said on social media that they were awakened by the MyShake earthquake warning app on their cellphones.
A seismologist with the USGS said people living near the coast reported feeling "significant shaking." People could expect to see minor damage, including things falling off shelves, and possibly foundational damage, the seismologist said.
The quake comes almost exactly a year after a 6.2-magnitude earthquake struck offshore in the Cape Mendocino area of Northern California on Dec. 21, 2021. No major damage or injuries were reported in that quake. It struck at a depth of 5.6 miles in the Pacific Ocean, about 24 miles west of the small community of Petrolia, along the rocky wilderness of California's Lost Coast region in Humboldt County, the Geological Survey and the Humboldt County Sheriff's Department said at the time.
California State Polytechnic University, Humboldt, which was already on winter break, asked everyone but essential personnel to stay off campus as inspectors assess damage.
Joe Studley, Colin Sheeley, Sara Mhaidli and Polly DeFrank contributed.